Prague won its first Michelin star in 2008, awarded to the Allegro restaurant at the Four Seasons Hotel and its chef Andrea Accordi. Allegro won a star three times, but has since ceased operating. The restaurant at Prague's Alcron Hotel also held a star between 2012 and 2018. Along with the two current star-holders and British chef Gordon Ramsey's short-lived restaurant at the Hilton Hotel, a total of five Prague restaurants have won a star to date. In a ranking compiled last fall, the Czech capital was named in the top half of thirty major European cities for the quality of food, while it was in the top 10 for vegetarian food and brunch options. While not being an international capital, is increasingly being relevant. This cannot however shine enough light on a recovering sector after the Covid 19 Pandemic.
"Prague offers something for everyone, with an increasingly varied selection of restaurants adding to its dynamic dining scene. Many of these restaurants can be found away from the city center: trendy contemporary spots which reflect modern Prague, whilst still paying respect to the country's culinary traditions," said Gwendal Poullennec about the local culinary scene
An assertive and developing gastronomy
Now, the quality of the Czech capital's high-end gastronomy scene has been reaffirmed in the latest Michelin Guide for the city : Prague restaurants Field and La Degustation Bohême Bourgeoise retained their one-star status in the new guide. The city didn't gain any new Michelin stars, although a further five restaurants were deemed worthy of special recognition.
Two new additions were awarded Bib Gourmand status (Michelin status for "noteworthy restaurants) for "good quality, good value" cooking. Holešovice's The Eatery won this recognition for its "easy-to-eat, seasonal Czech cuisine," as did Dejvická 34 by Tomáš Černý, where the eponymous chef-owner serves up "top-quality imported ingredients in robust, flavor-packed Italian and Czech dishes." Na Kopci, Divinis and Eska. Four new restaurants were meanwhile added for inclusion in the guide this year: Výčep, serving classic Czech dishes, Taro, focusing on Asian cuisine, Bockem, with its contemporary take of Czech food, and QQ Asian Kitchen housed in the Mosaic Hotel.
A festival of Ukrainian gastronomy and culture has even taken place in Prague on May 5 at Pražská tržnice in Holesovice. Visitors can try borscht, vareniki, dumplings, and other dishes of traditional Ukrainian cuisine.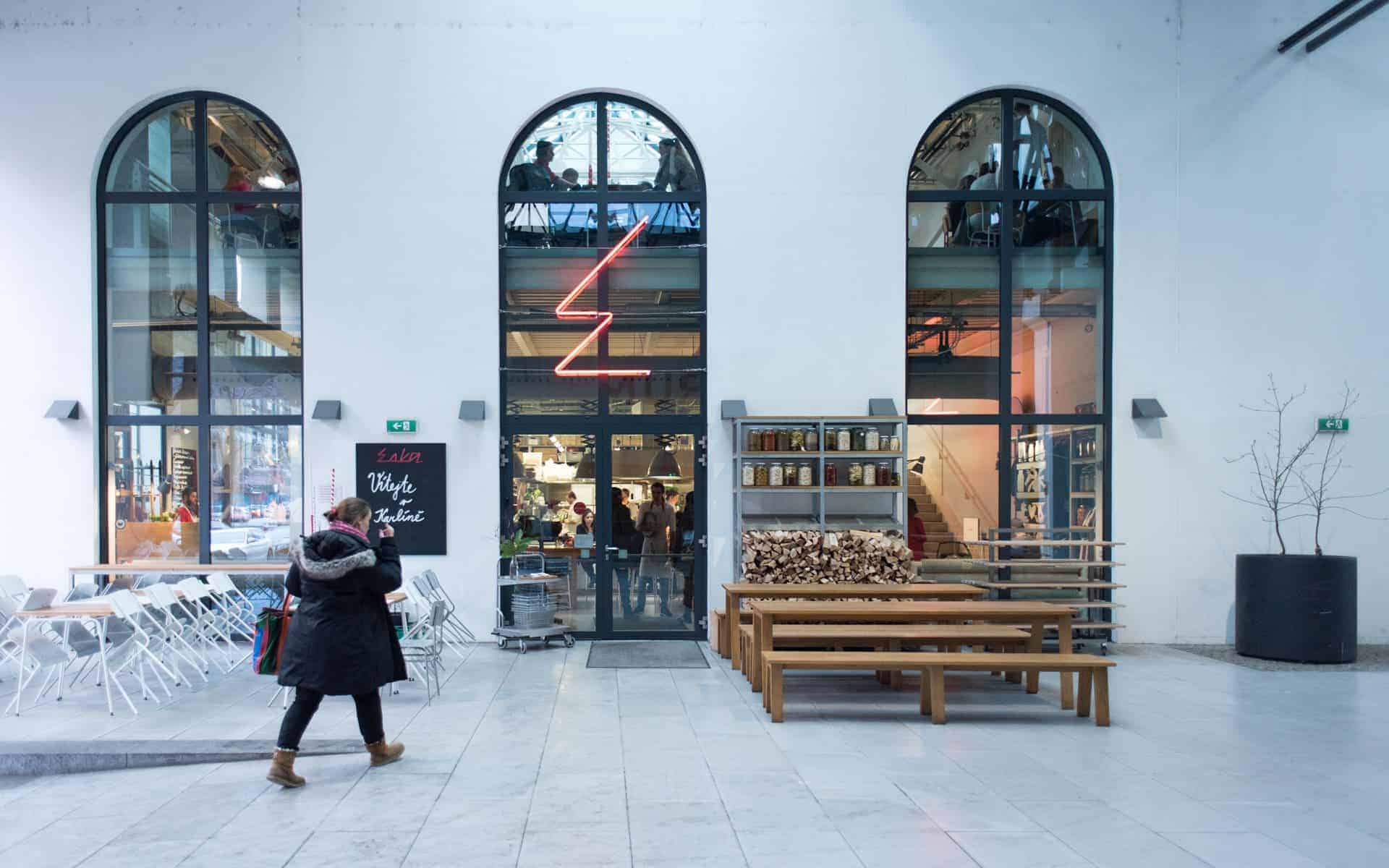 A slow recovery after the pandemic
During the epidemic, restaurants in the Czech Republic were severely harmed by successive lockdowns.
Although Europe has mostly returned to normalcy and safety safeguards have been dropped, the sector has not yet recovered to pre-pandemic levels. According to local industry officials, the number of people visiting restaurants has decreased by 20-30%.
Furthermore, the number of foreign tourists remains low, and Czech restaurateurs rely primarily on domestic customers these days.
"Sales are extremely low. Businesses reached pre-pandemic levels in the summer of 2021, but have been significantly below since then," Kastner added.
Similar sentiments are shared by Michal Voldich, head of the Czech-Moravian Association of Microbreweries.
"Anyone looking into a restaurant sees it empty or half-empty," he explained.
Foreign tourists rarely return to Czech restaurants, according to Voldich, while local gastronomy, which mostly caters to foreigners, has been unable to shift its model and cater to Czech customers.
As a result, several firms have decided to close for the winter, with the intention of reopening in the spring.
"Everyone is hoping that tourism would recover at least somewhat this year, if not to last summer's level," Krastner added.
The Czech Statistical Office's analysis shows that tourism-related sectors grew strongly in the third quarter, but Voldich remained cautious.
"At the moment, there is no foreign tourist, but it will steadily revive over the next two years." "It will most likely take a different shape," he added.
As tourists have become more demanding in various aspects, switching to quality cuisine combined with greening measures in restaurants will be essential factors in restoring the Czech hospitality industry in the post-pandemic age, according to Czech restaurant owners.
"When tourists decide where to travel, it's no longer just about the sights or attractions; it's about the overall experience." Lubo Kastner, a co-owner of restaurants in the Pilsen region of western Czechia, remarked that gastronomy is "essential" in their decision-making.
As a result, Kastner added, tourists select regions and attractions where they can also find good food options.
"They [tourists] prefer to go to a less beautiful tourist destination if they know they'll have a nice meal and learn about any local artisanal peculiarities relating to food and drink,", stressing that the current trend in restaurants is "professionalisation" of cuisine.
"During the COVID-19 pandemic, guests have become more demanding and interested in gastro, possibly even more educated about it," he said.
According to analysts, travelers' environmental concerns, as well as what restaurants do about them, are equally crucial.
Due to a lack of funds to implement ecologically friendly measures, restaurateurs are hoping for funding from the EU-funded National Recovery Plan (RRF), which is expected to provide Prague with €7 billion in grants.
Increasing difficulties in eating out
According to data provided by Sodexo, which manages and tracks employee meal coupons, the cost of eating out for lunch in the Czech Republic has increased dramatically over the last year.
According to restaurateurs, the price hike, along with the pandemic's lasting effects and a change in Czech law last year, has resulted in much fewer diners eating out for lunch in the first few months of 2022 than in previous years. According to Sodexo, the average price for lunch in a restaurant in the Czech Republic in January 2022 was 157 crowns, up two crowns from December and 13 crowns from January 2021.
The average lunch price in Prague was 176 crowns, up 15 crowns year on year, making it the country's most costly midday meal. Many people began working from home during the pandemic, and eateries that cater to business centers suffered a significant drop in visits.
According to Sodexo CEO Daniel Apek, the amount of individuals using coupons to pay for meals at restaurants is half of what it was before the 2019 pandemic.
The Czech culinary sector currently relies almost entirely on locals and Czech visitors traveling within the country.
"Last summer, domestic tourism set a new high. "However, establishments that cater solely to tourists have mainly closed," Kastner said.
People will also have to appreciate "their innkeeper," according to Voldich.
"Only the most powerful 'heroes' will survive. In the event that they take the roles that their former employees held, most restaurateurs rely on their finances, most loyal regulars, and their own talent."
However, pubs and restaurants play an important role in the lives of local residents.
"Pubs and breweries have an unmistakable historical presence," said Voldich, who believes pubs and breweries bring a community together and are essential components of social life.
"To say it is our national intellectual wealth is not an exaggeration."

Rekindling the flame between cuisines and its people
A new app for local food-lovers has been launched to help navigate the growing volume of venues in the Czech capital and beyond. Fooder, being described as "Tinder for food" pairs customers with restaurants via attractive food photos.
It may be argued that an app that relies so much on appealing graphics isn't the most trustworthy way of determining which restaurants are truly worth visiting. Fooder, on the other hand, claims to encourage "high-quality gourmet experiences." The app's authors also recommend that users follow fooder.one on Instagram for more information on "interesting Czech gastro initiatives and concepts."
The concept is to promote food appreciation to a greater extent than more utilitarian food delivery apps like Dame Jdlo or Wolt, or text-based restaurant recommendation services like TripAdvisor. Fooder aspires to be one of the world's major gastronomy platforms, with plans to reach at least 200 cities in 30 European nations in the next few years before expanding to North America and Southeast Asia.
Bibliography:
Barbora Pistorová, "Czech gastronomy upgrade critical to attract 'demanding' tourists", Euractiv, 21 April 2022. https://www.euractiv.com/section/economy-jobs/news/czech-gastronomy-upgrade-critical-to-attract-demanding-tourists/
Expats.cz Staff, « Prague festival fundraiser to celebrate Ukrainian food and culture", Expats.cz, 27 April 2022. https://www.expats.cz/czech-news/article/fundraising-festival-will-celebrate-ukrainian-culture-and-gastronomy 
Expats.cz Staff, "Czech lunch prices are rising, and fewer people are eating out", Expats.cz, 13 March 2022. https://www.expats.cz/czech-news/article/czech-lunch-prices-are-rising-and-fewer-people-are-eating-out
Kathrin Yaromich, "Refugee women serve up Ukrainian cuisine from Prague food truck", Expats.cz, 8 April 2022. https://www.expats.cz/czech-news/article/foodtruck-helmed-by-refugees-womens-now-serving-ukrainian-cuisine-in-prague
Statista Research Department, "Industry revenue of "restaurants and mobile food service activities" in Czechia from 2012 to 2025", Statista, 30 September 2021. https://www.statista.com/forecasts/397925/restaurants-and-mobile-food-service-activities-revenue-in-czechia
William Nattrass, "Michelin Guide 2021: Two Prague restaurants retain their coveted stars", Expats.cz, 18 November 2021. https://www.expats.cz/czech-news/article/czech-republic-retains-its-two-michelin-stars-for-prague-restaurants