B. F G. Fabrègue for Blue Europe , paper submitted on the 01/12/2021, correction by Gwendal Combot.
Among the unexpected major nuclear powers in the EU, Slovakia stands out by its energy production profile , quite unique. Thanks to an unique public policy that started in the 1960, when Czechoslovakia was still a country, the Slovakian government have been expanding nuclear capacities continiously. Today, Slovakia produces more than 60% of its energy from Nuclear sources and is on the way to even surpass France in the biggest consumer of nuclear energy in its energy breakdown. As we'll see, Nuclear in Slovakia is actually mainly without hickups and the full cycle is fully managed 
A long story before the EU accession
The Czechoslovak government began construction of the Czechoslovak Republic's first nuclear power plant in 1958 – a gas-cooled heavy water pressure-tube reactor at Bohunice (now in Slovakia). This 110 MWe net Bohunice A1 reactor, designed by Russia and built by Skoda, was completed in 1972 and operated until 1977, when it was shut down owing to an accident during refueling.
In 1972, building of the Bohunice V1 facility began, with two VVER-440 V-230 reactors provided by Russia's Atomenergoexport and Czechoslovakia's Skoda. The first was linked to the grid in 1978, followed by the second two years later. In 1976, Skoda began construction on two V-213 reactors (the V2 facility). In 1984 and 1985, the V2 units entered service. Atomenergoproekt designed them all.
As a condition of Slovak accession to the European Union (EU) in 2004, the Slovak government pledged to shutting down units 1 and 2 of the Bohunice V1 reactor due to reported safety issues with the early model reactor. The intended deadline for closure was 2000, but later dates of 2006 and 2008 were agreed upon in light of EU accession.
The latter dates were established despite extensive renovation of the units, which included the replacement of emergency core cooling systems and the modernization of instrumentation and control systems. Yet, the system were far from ancient : the two Bohunice V1 reactors were the first V-230 units to operate outside the Soviet Union and had had more upgrades than any other unit of their class since 1991e, totaling over US$ 300 million. In 2000, an International Atomic Energy Agency (IAEA) mission concluded that "all safety concerns noted previously by the IAEA had been adequately resolved" for the V1 units. Slovakia claimed that the safety upgrade eliminated all design flaws, which was confirmed by international expert safety review missions.
In the run-up to the EU's 2004 admission, representatives of Eastern Europe's nuclear industry argued for the adoption of transparent and rational EU safety criteria rather than punitive shutdown of reactors that had been significantly modernized. The Slovak Bohunice V1 units in particular were hailed as prime examples of the high safety standards that such reactors can attain with the assistance of Western businesses such as Siemens.
Nuclear energy in Slovakia after entering the European Union
The V1 at Bohuniceunits produced electricity at a cost that was half that of other Slovak sources, and their closure prior to the start-up of Mochovce 3&4 has left the country without power. Unit 1 of the Bohunice V1 power plant was shut down in late December 2006, removing approximately 9% of Slovakia's electrical supply. The V1 plant's second unit was shut down at the end of 2008. The Prime Minister stated that while he respected the decision to close the plant, he viewed it as "energy treason" on the part of the previous government, which resulted in Slovakia being an importer of electricity. He speculated on the possibility of restarting the V1 units in the future.
Not all Bohunice reactors were closed : between 2005 and 2008, operator Slovenské Elektrárne (SE) upgraded the seismic resistance, cooling systems, and instrumentation and control (I&C) systems on the two Bohunice V2 units, with the goal of extending their operating lifetime to 40 years (to 2025). This was followed by a gradual uprating of both units1, which increased each unit's capacity from 440 MWe gross to 505 MWe gross (472 MWe net) by November 2010. The estimated overall cost was €500 million. SE intends to renew the licenses for the V2 units until 2045 following their upgrade.
The other main Czechoslovakia inherited plant was Mochovce. Skoda began construction of the first two units of the four-unit Mochovce nuclear power facility using VVER-440 V-213 reactor units in 1982. The construction of units 3&4 began in 1986 and was completed in 1992. Units 1 and 2 began operations in 1998 and 1999, respectively. With aid from Western firms, these two units have been considerably updated and their I&C systems overhauled. By June 2008, Mochovce 1&2 had increased by 7%, from 405 to 436 MWe net. Additional turbine upgrades are planned to bring them to around 466 MWe net (500 MWe gross) a piece by late 2021.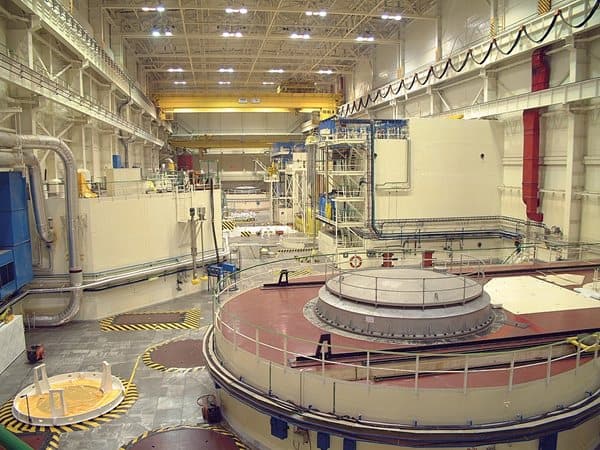 Mochovce reactor hall (Slovenské Elektrárne)
New nuclear capacity in Slovakia in the early 2000s
In October 2004, the government authorized ENEL's offer to acquire 66% of Slovenské Elektrárne for €840 million as part of the company's privatization process. Enel's following investment plan, approved in 2005, included an additional €1.88 billion for capacity expansion, including €1.6 billion for the completion of Mochovce units 3&4. Since then, the estimated cost of this project has more than doubled.
The government announced a new energy strategy in January 2006 that incorporates these objectives and includes capacity increases at the Mochovce 1&2 and Bohunice V2 units.
Slovak power reactors under construction, planned and proposed (2020 data)
Reactor
Model
gross MWe
Construction start
First power
Operator
Mochovce 3
V-213+
471
6/09
2022
SE
Mochovce 4
V-213+
471
6/09
2023
SE
Bohunice New Block
VVER?
1200
2021?
2025?
Jessh
Kecerovce
?
1200
After 2025
?
Total under construction (2)
942 (440 net each)
Ambitions for new nuclear construction were stated in the Slovak Republic's October 2008 Energy Security Strategy, which integrates the 2006 Energy Policy's nuclear power plans. The 2008 Energy Security Strategy sought to preserve nuclear power's share of electricity generation at roughly 50% through the following measures:
By 2013, Mochovce 3&4 will be completed (880 MWe gross).
By 2010, upgrades at Bohunice V2 and Mochovce 1&2 will be completed (180 MWe gross).
By 2015, upgrades at Mochovce 3&4 (60 MWe gross).
By 2025, Bohunice will have a new reactor block (1200 MWe gross).
Additionally, around 2025, when the two V2 units approach 40 years of service, the policy calls for either extending the life of the V2 units or building 1200 MWe of new nuclear capacity at Kecerovce in the country's east.
The nuclear power reactors Mochovce 3&4 with ENEL as a joint Venture
SE indicated in February 2007 that it will proceed with the development of Mochovce 3&4, and the European Commission approved the completion of the units in July 2008, subject to the design being brought into compliance with existing best practices for aircraft impact resistancej,2. Site preparation began in November 2008, and major building activities began in June 2009, following the signing of contracts. A contract worth more than €370 million was signed with Skoda JS, Russia's AtomStroyExport (ASE), and Slovak suppliers Vskumn stav Jadrovej Energetiky (VJE), Enseco, and Ininierske Stavby Koice to supply the remaining nuclear island equipment (beyond that delivered 20 years ago), with Siemens providing some of the instrumentation and control (I&C) systems. Contracts were signed with Enel Ingegneria & Innovazione for the engineering, construction, and project management of the conventional island, which will utilize Skoda Power steam turbines3. After a delay caused by EU stress tests, startup was originally scheduled for 2013 and 2014. By 2016, an upgrade of 62 MWe was planned, bringing the total to 880 MWe gross. By 2015, 170 significant design changes have been made.
Due to the project's reliance on the previous 1986 building permit, which included environmental clearance, it was contested, and the need for a comprehensive new environmental impact study in accordance with European Union legislation was asserted.
Enel requested an additional €800 million in December 2012, on top of the initial €2.8 billion estimate, and a 22-month extension to finish the two units. In 2013, the dispute between ENEL and other shareholders remained unresolved, and the timeline was pushed again. The government and Enel agreed in August 2013 to release €260 million for supplier payments, and in April 2014, the government authorized a revised budget for the plant of €3.8 billion, up from the €3.25 billion agreed in August 2013. The regulator then stated in June 2014 that SE's timeline indicated that startup would be delayed until at least mid-2015.
In October 2014, unit 3 was 80% complete while unit 4 was 60% complete. The design has altered significantly since the V-213's inception. In October 2016, the cost estimate has increased to €5.4 billion. SE approved funding for the units' completion in March 2017, with operation scheduled for late 2018 or late 2019. They were 95% and 83% complete at the time.
Rusatom Service signed an agreement with Czech Skoda JS in May 2016 to offer technical support for the installation of primary circuit equipment and commissioning work on the two units.
In July 2018, Slovakia's prime minister announced new completion deadlines for units 3&4 of 2019 and 2020. However, in April 2019, it was stated that a further eight-month delay was probable due to disputes to the commissioning permits. Unit 3 was 99 percent complete at the time; unit 4 was 85 percent complete. Unit 3 would not be operational until November or December 2020, it was revealed in April 2020.
In May 2020, Slovakia's Nuclear Regulatory Authority (UJDSR) revealed that material used in certain pipe connections "did not match criteria" during post-installation tests. As a result, SE will inspect "several thousand" components supplied by the same supplier. UJDSR claimed that at the time, it was not possible to determine the effect of the component checks on the Mochovce 3 schedule.
In February 2021, it was reported that opposition from Austria's Global 2000 environmental organization could push fuel loading into the third quarter of 2021.
The regulator approved an operational licence for unit 3 in May 2021.
SE stated in October 2021 that it anticipated full regulatory permission by the end of the year, allowing unit 3 to generate electricity in early 2022, which it will surely according to the latest data.
Working on A bohunice new block
In April 2008, proposals for a new reactor at Bohunice for 1000-1600 MWe were revealed, most likely employing Western technology to enable the usage of MOX. CEZ, the Czech utility, was named as the joint venture's 49 percent partner in December 2008, with state-owned Javys holding 51 percent. According to reports, CEZ paid €117 million for its stake. In May 2009, the JESS (Jadrová energetická spolonos Slovenska, Slovakia Nuclear Energy Company) joint venture agreement was signed. Financing was slated to be completed in 2011 and construction to begin in 2013, at an estimated cost of €3.32 billion (for a 1200 MWe unit). Following an 18-month feasibility study (due to conclude by the end of 2010), a call for tenders was to be issued, with Areva and Westinghouse being the primary contenders. In September 2012, JESS reported that technology offered by six vendors* met the requirements for one or two reactors at Bohunice. In December 2010, six vendors provided data packages: Westinghouse AP1000, Atmea 1100, Mitsubishi APWR 1700, Atomstroyexport MIR 1200, KHNP APR 1400, and Areva EPR 1600.
In August 2010, the newly elected center-right administration stated that it supported the Bohunice initiative but would not provide financial help. It was originally scheduled to open in 2025, however the Minister of Economy stated in May 2011 that it could open by 2020. In April 2012, a new left-wing administration committed to expedite the project and decide on its continuation early in 2013, as well as to accelerate the completion of Mochovce 3&4, which had been delayed by the necessity to integrate adjustments required by EU'stress testing.' The project was confirmed in November 2014's energy plan.
CEZ is apparently seeking to sell its 49 percent ownership in JESS for €110 million in order to focus only on the Temelin project, and Rosatom has been studying the possibility of acting as both technology provider and investor in this business. CEZ offered Rosatom its share in JESS in April 2013, and the Slovak Economy Ministry stated that it would gladly accept this transition, with Rusatom Overseas purchasing it and installing a 1200 MWe reactor around 2021. It requested a long-term guaranteed power price of €60-70/MWh, which the Economy Ministry declined to grant, as well as the possibility of a BOO (build-own-operate) arrangement. In January 2014, Rosatom stated that it remained interested if the Slovak government could ensure profitability, and negotiations with CEZ proceeded. In December 2015, the government stated that Rosatom remained interested in the proposal, but Rosatom has not verified this.
The project's preliminary stages are now underway. JESS arranged for AMEC to conduct the three-year environmental impact assessment [EIA], and in April 2016, the Ministry of Environment announced the project's approval in principle. JESS stated at the time that around half of the reactor's preparations were complete and that it was developing criteria for selecting a nuclear technology supplier.
In November 2015, CNNC and CAEA inked a nuclear cooperation agreement with China centered on the fuel cycle supply chain. CNNC stated that it followed similar agreements reached with France and the United Kingdom.
Cycle of a fuel
Currently, all gasoline is procured through TVEL in Russia. Assessing the possibility of uranium mining in Slovakia was one of the 2008 Energy Security Strategy's priorities.
However, in May 2014, the government resolved to prohibit uranium mining in the country unless approved by a referendum of local residents, allegedly in response to opposition spearheaded by Koice's mayor. The Slovak Ministry of the Environment recommended the modification, which took effect in June 2015.
In May 2014, Perth-based Forte Energy agreed to acquire European Uranium Resources' (EUU, currently trading as Azarga Metals Corp, formerly Tournigan Energy) Slovakian uranium assets via a share issue. Due to the fact that this was not permitted, Forte agreed to pay $4 million in cash and farm-in for a 50% stake in EUU subsidiaries Ludovika Energy and Ludovika Mining, both of which operate in Slovakia. After receiving the cash in October 2014, Forte was required to spend $350,000 every year for ten years to complete the transaction. Forte, however, cancelled the arrangement and forfeited its 50% stake in the two firms to EUU in October 2015 due to the government's failure to renew exploration licenses.
EUU was examining the Kuriskova and Novoveska Huta uranium resources in eastern Slovakia, as well as additional uranium exploration areas. Kuriskova is located approximately 15 kilometers northwest of Kosice, and Novoveska Huta is located approximately 50 kilometers west of the city, near Spisska Nova Ves. Both have the potential to produce molybdenum and rare earth elements as byproducts.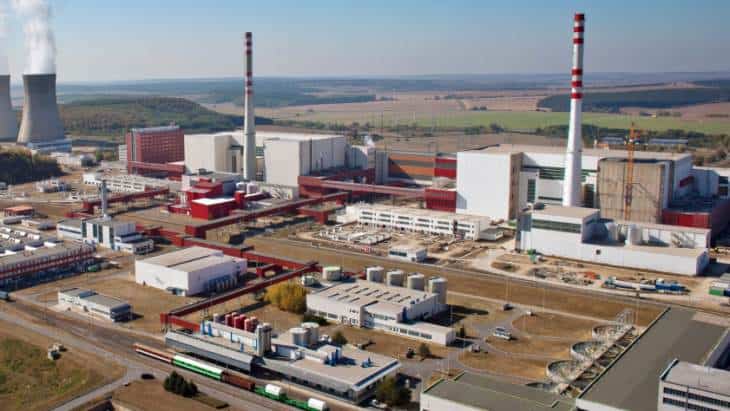 Initially, used fuel was to be disposed of without reprocessing, but in 2008, the policy was altered to domestic recycling. Slovenské Elektrárne formed the VYZ subsidiary in 1996 for the purpose of decommissioning nuclear sites, managing radioactive waste, and managing used fuel. Slovenské Elektrárne established a separate entity – Decom – to focus exclusively on decommissioning. During ENEL's 2006 acquisition of a 66 percent stake in SE, the SE-VYZ subsidiary was passed to the state as the Nuclear Decommissioning Company (Javys)l, together with the Bohunice V1 reactors (which were operational at the time).
Javys operates a low- and intermediate-level waste treatment and conditioning plant in Bohunice, and a near-surface repository (the National Radioactive Waste Repository) in Mochovce commenced operations in 2001.
At Bohunice, an interim wet storage facility for spent fuel complements the reactor storage ponds. It has a capacity of 1680 tonnes (14,000 fuel assemblies). It has been in operation since 1986 and is currently operated by Javys. Previously, some used fuel was exported to Russia for refining (with Russia keeping the products). Thanks to the latest development of treatment of waste, discussions are under way with Russia to clear the previous existing waste.
The country has begun the process of selecting a site for an underground high-level waste storage, however it is also exploring participation in a shared international repository project.
Slovakia established the National Nuclear Fund in 2006 to pay the expenses of waste management and nuclear facility decommissioning. In 2018, the government proposed amendments that would increase payment requirements for the country's single nuclear operator, Slovenske Elektarne, while also broadening the definition of contributors to include non-generating nuclear sites. Instead of being based on installed capacity and a proportion of earnings, the updated payment system will establish set costs for each facility. Since 2011, energy consumers have been compelled to pay a nuclear charge that is proportional to their consumption of electricity.
"As a result of rising electricity prices," the government discontinued payments to the National Nuclear Fund in 2021 for the years 2022 and 2023. At the end of 2020, funds totaled €1853 million, including €75 million from the four running plants, €37 million from the Mochovce 3&4 under construction, and €69 million from transmission firms. The fund spent approximately €66 million.
Decommissioning under way
The damaged Bohunice A1 reactor is still being decommissioned. By 1990, spent fuel had been returned to Russia, leaving the reactor core and cooling polluted with radionuclides from the 1977 accident's three fuel assemblies. The National Nuclear Fund finances decommissioning.
Decommissioning preparations for the two Bohunice V1 reactors began in 2012, with disassembly expected to take 13 years and cost approximately €1.14 billion.
The Bohunice International Decommissioning Support Fund (BIDSF), administered by the European Bank for Reconstruction and Development (EBRD), was established in 2001 to support the decommissioning of the Bohunice V1 nuclear power plant, as well as energy projects that would help mitigate the impact of the reactors' early closure.
The EU made a €225 million contribution to BIDSF at the end of 2013, with funding continuing until 2020. The National Nuclear Fund is co-financing the V1 reactors' decommissioning.
Always fighting with the neighbours
Slovakia peculiar geography makes the nuclear plants always close at least with a frontier. As such, conflicts are always existent with neighbours. For instance, Slovakia said in 2019 that it would delay – yet again – long-awaited plans to expand the Mochovce nuclear energy facility in response to Austria's complaints — a long-standing source of friction between the two neighbours.
Branislav Strycek, head of the state energy company Slovenske Elektrarne, which operates the power plant, told Slovak lawmakers earlier this week that the opening of two new reactors should be delayed until November of that year, or March 2020 at the earliest, rather than June 2019, citing Austrian opposition as the primary reason.
Chancellor Sebastian Kurz said the postponement was "a positive start" and that he will continue to fight "until all our safety concerns are addressed."
Located approximately 100 kilometers from the Austrian border, the Mochovce nuclear power plant expansion project has encountered stiff opposition from Vienna.
Austrian officials have repeatedly urged their Slovak counterparts to abandon the project, citing safety concerns, while Austrian environmental non-governmental organizations have launched a campaign claiming that the construction has significant flaws and poses a clear threat to the environment in the event of failure or incident.
Slovenske Elektrarne responded at the time to a scathing analysis by Austrian environmental watchdog Global 2000, claiming that it "demonstrates an appalling lack of information about the complex programs" aimed at enhancing the safety of Slovakia's nuclear plants.
Austria's "holy battle" in Central Europe against nuclear energy
In Bratislava, Vienna's ongoing opposition to the initiative did not sit well. Slovak Prime Minister Peter Pellegrini accused Austria of "declaring a holy war" against nuclear energy in Central Europe, where it is still widely regarded as a reliable source of energy security and inexpensive pricing.
Austrian Chancellor Sebastian Kurz "is exceeding his authority and attempting to interfere with the Slovak Republic's sovereignty and decision-making," the Slovak Premier said, as quoted by Austrian public broadcaster ORF.
"I understand that he needs to carry out his internal policy," Peter Pellegrini told TASR. "I understand that he is reacting to the sentiment in Austrian society, but it is my responsibility to protect the Slovak Republic's interests," he stated, before offering M. Kurz to visit the site, "because I am not sure if M. Chancellor has ever seen such a nuclear plant in person."
"We must prevent the expansion of the Mochovce plant by any means necessary!", Austrian chancellor Sebastian Kurz (right) wrote on Twitter
.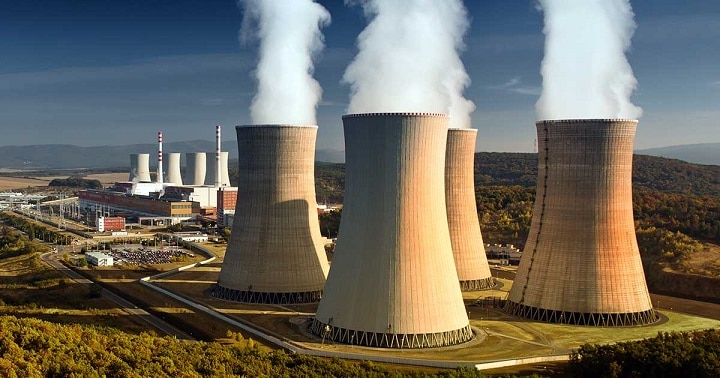 Looking for friends everywhere
Despite growing global resistance to nuclear energy in the aftermath of the Fukushima disaster in Japan, popular support for nuclear energy in Slovakia remains strong: 64 percent of the population supports additional nuclear construction, according to recent opinion polls.
On the contrary, Austria is one of the most adamant opponents of nuclear energy. The population's support is among the lowest in Europe, and the country has implemented strong anti-nuclear laws dating all the way back to the 1970's, all the while striving to start an EU-wide crusade, directly targeting its Czech and Slovak neighbors, urging them to avoid the atom.
According to a Eurobarometer survey done before to the Fukushima disaster, 66% of the Austrian population believes the hazards connected with nuclear energy exceed the benefits (compared to 34% in Slovakia), whereas 22% of Austrians trust nuclear plant operators (67 percent of Slovaks).
However, while Austria does not operate nuclear power plants, claims to be nuclear-free, and frequently chastises other European countries on the issue, critics argue that a portion of the country's final energy consumption is still derived from nuclear-generated electricity imported from neighbouring countries such as Slovakia and the Czech Republic.
More recently, during a conference near the Paks nuclear power station, which generates 48% of Hungary's electricity, the country's minister responsible for Paks expansion, János Süli, facilitated a discussion on energy sovereignty and security.
Visegrad's Four "are devoted to nuclear energy," the Paks II project business stated. "Nuclear power plants contribute to the European Union's aim of climate neutrality while enhancing supply security and supplying clean electricity at affordable costs."
"With my colleagues, we decided that without nuclear energy, it will be impossible to attain climate neutrality," stressed Karol Galek, Slovakia's Economy Minister.
Adam Guibourgé-Czetwertyski, Poland's Undersecretary of State for Energy, and Tomá Ehler, the Czech Republic's Deputy Minister of Industry and Trade for Nuclear Energy, joined Süli and Galek.
The four signed a declaration emphasizing the importance of nuclear energy not just for climate neutrality, but also for the EU Taxonomy, sustainable investment, and supply security. They emphasized the EU member states' "sovereign right" to set their own energy mix, adding that it is based on the European Union's Treaty on the Functioning of the European Union. According to the Czech government, "technology neutrality is a necessary condition for energy transition in line with 2050 decarbonisation objectives."
"The EU must provide a supportive and transparent framework for investment in all technologies capable of reducing greenhouse gas emissions, including nuclear energy," the group stated. Additionally, they promote the use of gas to facilitate the move away from coal.
According to Ehler: "The joint declaration of the energy ministers sends a strong message to the EU that the V4 nations are committed to nuclear energy development in order to meet their decarbonisation targets while maintaining energy security and self-sufficiency. Additionally, it demonstrates the critical need for a level playing field for all low-carbon energy sources, particularly in the area of financing."
The V4 statement is the latest pro- or anti-nuclear energy declaration in the European Union, as the European Commission considers whether nuclear energy should be included in its taxonomy of sustainable technologies. It is a political choice, with the scientific side resolved in March by a report from the Joint Research Centre. The V4 statement urged the European Commission to deliver the Delegated Act resolving the issue "no later than November 2021 to ensure a level playing field and avoid energy market destabilisation and distortion." As of december, no decision has been taken.
Germany, Austria, Denmark, Portugal, and Luxembourg oppose the inclusion of nuclear energy. The self-styled 'Nuclear Alliance,' which comprises Bulgaria, Croatia, Finland, France, Romania, and Slovenia, as well as the V4 group of the Czech Republic, Hungary, Poland, and Slovakia, are proponents of nuclear energy.
Bibliography
Belgium, Central Office, NucNet a s b l , Brussels. 'Slovakia / PM Calls For European Alliance Of Nuclear Energy Countries :: NucNet | The Independent Nuclear News Agency'. The Independent Global Nuclear News Agency. Accessed 19 December 2021. https://www.nucnet.org/news/pm-calls-for-european-alliance-of-nuclear-energy-countries-10-4-2020.
'New Nuclear Reactor Will Make Slovakia a Power Exporter : Corporate – World Nuclear News'. Accessed 19 December 2021. https://www.world-nuclear-news.org/Articles/New-nuclear-reactor-will-make-Slovakia-a-power-exp.
'Nuclear Power in Slovakia | Slovakia Nuclear Energy – World Nuclear Association'. Accessed 19 December 2021. https://world-nuclear.org/information-library/country-profiles/countries-o-s/slovakia.aspx.
Office, Kafkadesk Prague. 'Slovakia and Austria Clash over Nuclear Energy – Kafkadesk', 8 May 2019. https://kafkadesk.org/2019/05/08/slovakia-and-austria-clash-over-nuclear-energy/.
'V4 Countries Reiterate Support for Nuclear : Nuclear Policies – World Nuclear News'. Accessed 19 December 2021. https://www.world-nuclear-news.org/Articles/V4-countries-reiterate-support-for-nuclear.