With a total size of 78,867 km2 and a population of 10.5 million, the Czech Republic is a landlocked nation in Central Europe. Among the post-communist states of Eastern Europe, the nation boasts one of the most advanced, industrialized, and rich economies (GDP per capita: US$27,200 in 2012).
The top source markets for international tourists were Germany, Russia, Italy, the United States, the United Kingdom, and Slovakia, accounting for 52% of the total number of visitors. Around 2.7% of the GDP and 232k persons were employed by the tourist industry in 2011. (CZSO 2013). The contribution of tourism to the GDP has been falling over time, despite increasing performance. With its indirect effects taken into account, the total volume is $17.4 billion (8.4% of GDP), and the employment share is 10.6%.
The importance of tourism as a social and economic phenomenon in the Czech Republic has grown during the past 20 years. Numerous prospects for further development have been made available by the open-market economy. On the other hand, the most appealing locations (such as Prague and esk Krumlov) have congestion and overcrowding.
Tourism in the Czech Republic – What incentivizes people to go there?
The Czech Republic is known for its many zoos, aqua parks, research centers, entertainment resorts in the Wild West style (also known as western cities), and a variety of tiny amusement parks, the most well-known of which are the so-called Dinoparks. On the other hand, there is a chance for these parks to grow and develop further. There are numerous brownfields in the Czech Republic that could be used to build amusement parks in the future, supporting the growth of the entertainment sector there.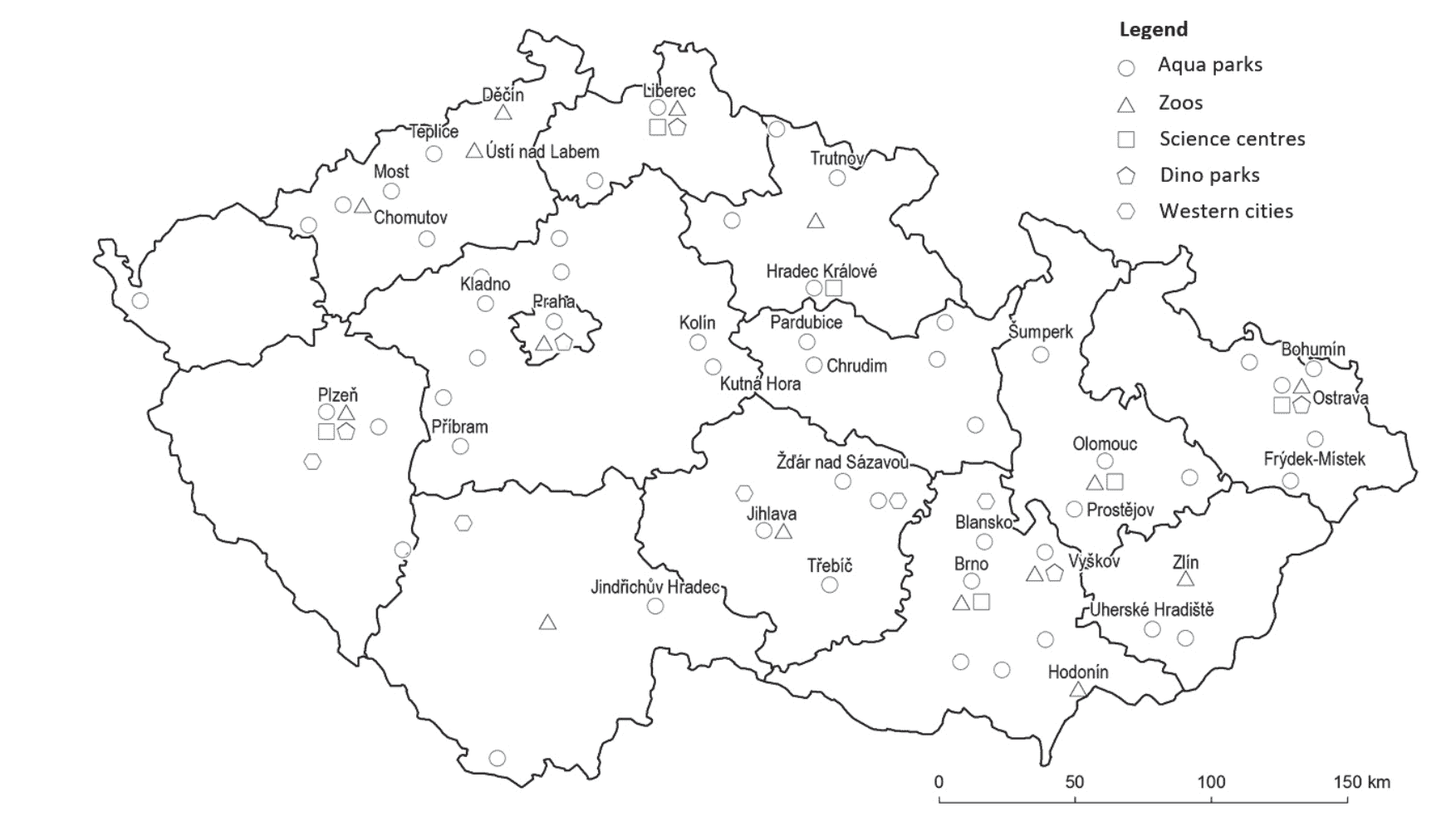 People who seek to escape their hectic urban lifestyles are increasingly drawn to natural regions. Geomorphological, climatic, hydrological, and biogeographical variables impact the natural potential as a key localization factor for recreational activities. Natural places' recreational potential is suited for the growth of health tourism as well as for meeting the physiological, social, cultural, and economic demands of people. The majority of the natural attractions in the Czech Republic are protected in some way. Visitors, cyclists, and pedestrians are drawn to natural parks, protected landscape areas, and other locations.
Tourism in the Czech Republic – An Expanding Market
The number of overnight stays in collective accommodation establishments totaled 9.8 million in 2016; this was 8.5% more than in the same period of the previous year. Domestic clients increased their number of nights by 8.7%. The number of overnight stays of non-residents went up by 8.3%. Year-on-year growth of 9.8% was recorded in hotels and pensions reported an increase even by 13.9%. In a regional breakdown, an increase was shown in all regions. The most successful were entrepreneurs in the Vysocina region, where the number of nights spent went up by 19.6% year on year due to both residents (+18.6%) and non-residents (+25.0%). The two-digit increase recorded accommodation establishments in the Karlovarsky region, Olomoucky region, South Bohemia, and Pardubicky region.
3.9 million visitors came to collective lodging facilities during the study period, which was a 9.8 percent increase from the previous year. Non-residents increased in number by 10.3%, while residents increased by 9.0%. Four-star hotels hosted the most guests (1,5 million), who stayed there. This was a 12.0 percent increase over the prior year. Three-star hotels welcomed 1.2 million visitors, which represented a 9.0% increase year over year. Pensions reported a 360 thousand visit increase or a 15.5 percent increase. Regionally, occupancy increased throughout. South Bohemia and Kralovehradecky region (by 26.5 percent) displayed the best results (by 19.7 percent ).
Overnight stays increased by 5.4 percent and the total number of visitors increased by 6.9 percent in 2016. Tourist numbers increased for both domestic and international travelers (+7.0% and +6.7%, respectively). For both groups, there were more overnight stays than in 2015.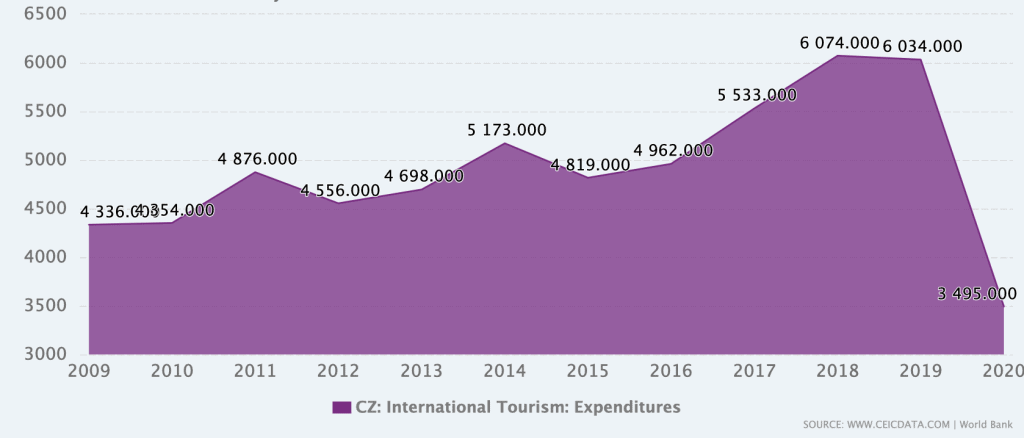 In all regions of the Czech Republic, the number of guests, as well as the number of overnight stays, went up. The best result was shown in the Kralovehradecky region (+13.2%) and in the number of overnight stays, it was Ustecky region (+10.6% nights).
Czech Republic Tourism – City Planning To Remove Car Dependency
Travelers will have no trouble navigating the Czech Republic because of its robust public transportation system, which has replaced the need for automobiles. Due to the numerous options, including trains, subways, trams, buses, and taxis, public transportation is effective and typically preferred over automobiles.
It has been suggested that owning a car is a hassle, especially in large cities like Prague. This is evident from the exceedingly scarce parking and the occasional auto burglaries. In addition, the paperwork, regulations, and bureaucracy have made the process of obtaining a Czech driver's license lengthy and burdensome. While travelers from some nations can use their current license or swap it for a local one, those from other nations must go through a challenging application process and rigorous testing in order to receive a local license.
Many Czech cities, most notably Prague, have tram networks. In Prague, trams are a common means of transportation since they run continuously, seven days a week. They also provide a speedy way to move around. In other cities, business hours are different.
The largest and busiest train station in the Czech Republic is located in Prague and is called Praha Hlavn nádra. The fact that this station provides long-distance service to a number of nearby nations, including Germany, Austria, Hungary, and Poland, is a significant factor in the sharp rise in international travel over time. Due to this, domestic tourism has also increased, with regional services being the norm in the majority of the country's major cities.
On the other hand, because there is just one Metro system in the Czech Republic at the moment, no progress has been made there. The Metro system needs to be expanded since tourists who want an alternative to driving prefer it. This would boost tourism throughout the Czech Republic, not only in Prague.
Although there have been exceptions, many tourists will need to go through a drawn-out process in order to legally drive in the Czech Republic. Those who have driving privileges in the EU may continue to do so with their active, valid licenses. While non-EU visitors must obtain a Czech driver's license, which is considered a lengthy and difficult process, which encourages visitors to pursue other ways of transportation.
Czech Republic Tourism – How It has Affected The Economy
In recent years, tourism has grown incrementally but steadily in the Czech Republic. In 2017, the number of people employed in tourism totaled 238 800, or 4.5 percent of all employment, and it contributed 2.9 percent to GDP. In 2018, travel exports made up 24.5 percent of all service exports.
According to the Tourism Satellite Account, the nation hosted an estimated 36.3 million foreign tourists in 2018. Approximately 39.4% of these were daytime visitors, and 60.6% were overnight guests. In 2018, 10.6 million foreign visitors stayed in lodging associated with the tourism industry, an increase from 10.2 million in 2017. (an increase of 4.4 percent ).
A positive balance of payments on the travel and tourism account of EUR 1.3 billion resulted from increased international tourist receipts of EUR 6.3 billion in 2018 (up 1.6% from 2017) and increased outbound travel spending by Czech citizens of EUR 5.0 billion (up 3.7%).
In 2018, locals made a total of 82.6 million domestic journeys, of which 36.9% involved tourism and an overnight stay. After expanding by 6.1 percent between 2016 and 2017, the number of domestic tourists fell by 6.4 percent in 2018 compared to 2017.
Bibliography:
The Czech and Slovak Republics: conceptual issues in the economic analysis of tourism in transition – Allan M. Williams and Vladimír Baláž – December 1st 2000
Special Interest Tourism in the Czech Republic: Introduction and Overview – Markéta Novotná, Bohumil Frantál, Josef Kunc and Helena Kubíčková – Masaryk University
Czech Republic, Tourism – Bohumil Frantál – The Institute of Geonics Czech Academy of Sciences and Palacky University – February 2016