Czech house prices continue to rise strongly, despite a coronavirus-induced economic recession. The average price of apartments in the Czech Republic surged by 8.37% (4.9% inflation-adjusted) during the year to Q3 2020, after y-o-y rises of 7.75% in Q2 2020, 8.6% in Q1 2020, 8.93% in Q4 2019 and 8.72% in Q3 2019, according to the country's central bank Czech National Bank (CNB).
Prague is already one of Europe's most expensive cities for buying a house, so home ownership in the capital city is set to become even more unattainable. But the increase is being driven by wider economic forces causing serious concern among analysts. The Czech Republic ranks as the least affordable housing market in Europe with an average of 12.2 gross annual salaries needed to buy a 70-square-metre apartment, according to Deloitte's housing affordability survey released in 2021.
According to the OECD, domestic real estate prices have climbed by 89 percent in the Czech Republic over the past six years, faster than house price growth in most EU countries.
The situation is made worse by the fact that the growth in house prices is not being matched by an equivalent growth in wages. This means that while houses in major cities like Prague and Brno are approaching the prices of property in neighboring countries like Germany and Austria, average wages remain much lower than in those countries.
Only fourteen percent of young people can now afford a mortgage, suggests a survey reported by ČT24. For the quarter that does get approved the property often does not match their expectations.
Although some banks already take into account the age of mortgage applicants and slightly reduce interest rates, almost thirty percent of young people now prefer to delay buying real estate.
Inflation and mortgages are steadily increasing
Mortgage rates saw their biggest increase since 2003 as a result of National Bank measures to tackle inflation
"Mortgage rates fell under 2.0% during 2020 and these extremely cheap loans are currently encouraging clients to invest in the residential sector, despite the continued strong increase in pricing," said Colliers International, adding that there had been a record volume of mortgages approved in 2020.
However, recent months have seen huge demand for mortgages in the Czech Republic, with concerns growing that a coming economic hammer blow resulting from the pandemic will see prices spiral. But for those who haven't already picked up a cheap mortgage, it could already be too late.
New data from Fincentrum Hypoindex shows that the average mortgage rate saw its biggest jump since 2003 last month. The average rate rose to 2.99 per cent from a previous level of 2.70 per cent in November. This was the tenth increase in a row, making it clear that the days of extremely low mortgage interest rates are now a thing of the past.
In the short term, though, this means mortgages are becoming more expensive in line with price rises for smaller consumer expenditures. The bank's policy of raising interest rates was criticized by the previous Czech government for this reason; but economists agreed that it was a necessary step to keep a lid on inflation. Now, a pessimistic tone is growing more common, due to expectations that rates will continue to rise.
New monthly data from Fincentrum Hypoindex shows that the average mortgage rate in Czechia at the start of April is 4.88 percent. This constitutes an increase of 0.26 percent from the previous month, and a jump of a whole percentage point since the end of 2021.
A mortgage loan worth CZK 3.5 million, with a fixed term of three years, a maturity of 25 years, and an average interest rate of 4.88 percent, requires monthly payments of CZK 20,227.
"Not everyone can afford this," said Sýkora. "Due to high rates and high real estate prices, mortgage loans are once again becoming a product only for high-income sections of the population."
Inflation rose to 6.6 per cent in December and the Czech National Bank is now openly discussing the possibility that it will reach double figures this year. In this context, the bank has progressively raised the base interest rate in the hope that doing so will take money out of circulation: providing a bigger incentive for people to save money while making loans from banks more expensive
Inflation spiked to almost 10 percent in the Czech Republic in January. The month-on-month increase in consumer prices compared to December was the largest in the history of the independent Czech Republic.
"The effects of the increase in mortgage rates has now hit us in full force," said Jiří Sýkora, a mortgage analyst at Fincentrum & Swiss Life Select. "Overall, the average interest rate significantly exceeds three percent, stabilizing at 3.43 percent in January 2022. This was an increase of 0.44 percent, exceeding the record increase set last month. However, it's clear that we can expect a similar increase over the coming months."
Landlords are also affected
Rental prices are also expected to go up this year. Landlords will be hit by higher overall costs for maintaining buildings, including necessary administrative expenditures such as sewage collection, energy and water costs.
The ability of landlords to increase rent rates depends on the contract governing the tenancy. Increases are usually allowed by a so-called inflation clause, which allows for growth in rents based on the rate of inflation.
But even those without an inflation clause can raise their prices. Landlords can propose rent increases of up to 20 percent to ensure their prices are in line with comparable rents in the same area; a metric which has to be determined by expert opinion.
Economists predict that most rents will increase in line with last year's overall inflation rate of 3.8 percent. This would mean rate increases by hundreds or even thousands of crowns. On top of this, renters and mortgage payers alike can expect more expensive bills for utilities including electricity and gas as a result of spiking energy prices throughout Europe.
Cities are becoming less and less affordable
More ominous news has now arrived with an analysis showing that apartment prices in Brno, the Czech Republic's second-largest city, have passed the CZK 100,000/sq m mark for the first time.
Apartment prices in the Moravian capital rose by a fifth year-on-year, according to FérMakléři.cz. The analysis was based on cooperation with over a hundred Czech real estate agents. In the first quarter of 2021, the average flat price in Brno was CZK 86,126/sq m, but now it is as much as CZK 103,316/sq m. Still, the most significant apartment price increases over the past year have not been seen in Brno, according to analysts, but in Ústí nad Labem. The city saw a huge 56.6 percent increase in average prices year-on-year.
Other cities which saw particularly significant yearly increases were Ostrava, Olomouc, Hradec Králové and České Budějovice.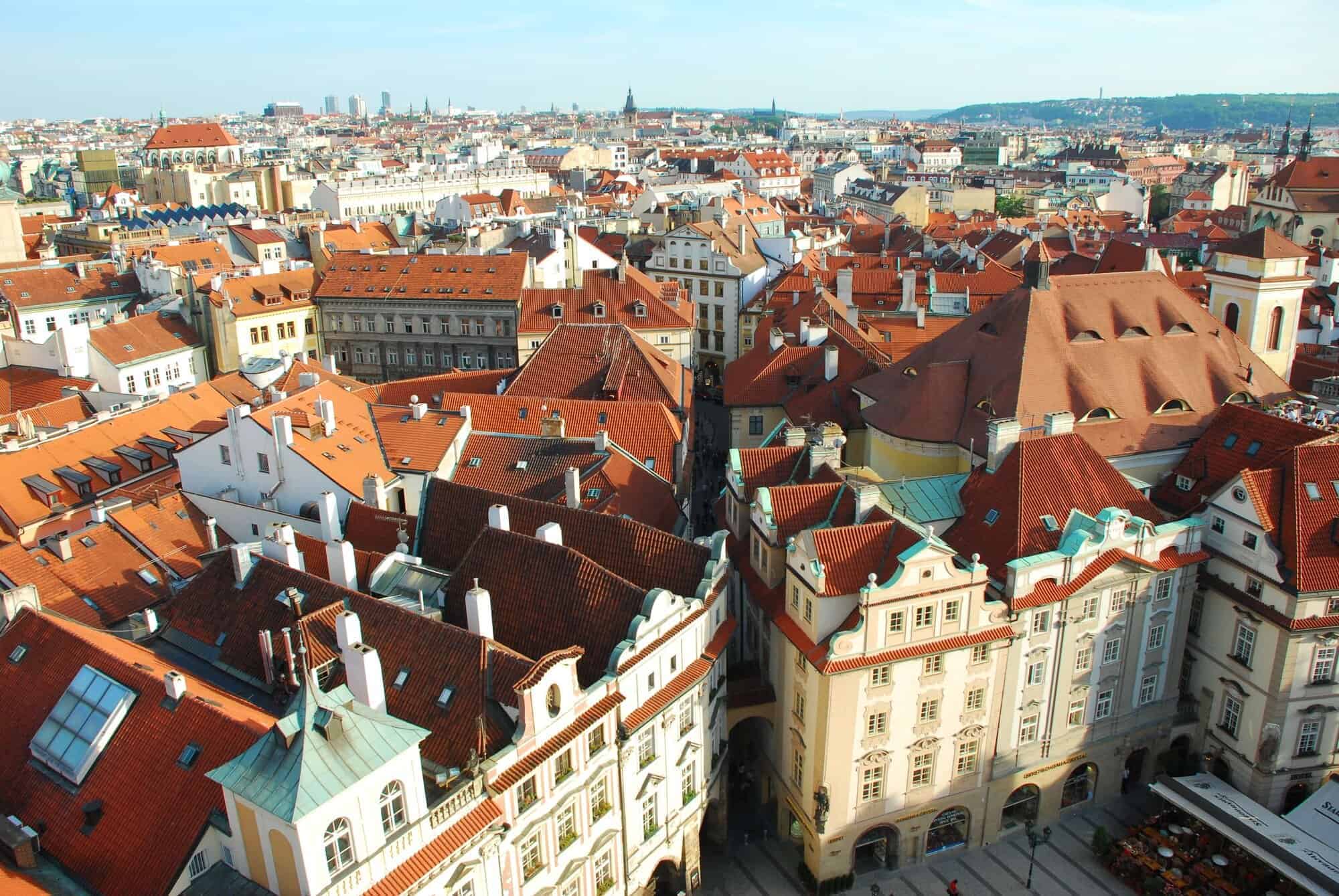 Finding ways to cope
Officials are looking for ways to help first-time home buyers grapple with the soaring prices but limited supply of properties leaves them with few tools at their disposal.
Prague Mayor Zdenek Hrib told Reuters the city has focused on reconstructing municipal flats to increase supply and keeping a number in reserve for essential workers, such as teachers, police officers and social workers.
Data from the Czech Statistical Office published yesterday showed that construction began for almost 10,000 flats or houses in Prague last year. This is the highest number of new developments in any year since 2000.
City authorities are optimistic that such moves will provide living space for significantly more Praguers over the coming decades. "By 2050, up to 600,000 new inhabitants could come to Prague," said Petr Hlaváček, First Deputy Mayor of Prague.
Amid the crisis in the supply of affordable housing, novel alternatives are being discussed to allow more people an ownership stake in their homes. One proposal which is picking up steam is the possibility of shared housing.
This system is already popular in other Central European cities, including Berlin, Vienna, Hamburg, and Munich where shared housing schemes typically involve a group of co-owners jointly financing the construction of a new building with certain communal spaces such as a kitchen, dining room, garage, workshop, or garden.
Surveys are now being conducted in the Czech Republic to establish public interest in such housing initiatives. The cities of Liberec and Hrádek nad Nisou are participating in a viability study for shared housing projects run by the Technical University of Liberec, the Czech Academy of Sciences, the Arnika Association, and Brno's Masaryk University. On the other hand, researchers point out that the shared-housing lifestyle tends to appeal more widely to younger people. This is certainly the case in Psáry, a municipality outside of Prague, where a proposal to build shared flats for young incoming school teachers is being considered.
Despite the scarce supply of new housing in Prague, there are some attractive properties below the average market price. There are many options to protect savings, such as fixed-term deposits, mutual funds, stocks, or even cryptocurrencies. However, in times of uncertainty, one of the safest ways to protect assets has always been real estate. While the value of money is declining, real estate is doing the opposite. It is an asset that can generate returns in addition to increasing its value.
According to the latest surveys, in the last year sales of new apartments in the capital have risen by 28 percent and their price has increased by almost 30 percent year on year. New housing, especially in Prague, is a scarce commodity. Last year saw the lowest supply of new flats in a decade.
Two apartment buildings currently are under the average price for the Prague market: Juliett and India in Prague's Kbely district. Both are being prepared by Skanska Reality. The favorable price is guaranteed to be fixed. It will remain the same from the signing of the contract until you move in. The increasing prices of building materials will not be reflected in the price of the apartment.
The entire project uses blue-green infrastructure features and technologies that, in addition to efficient energy use and stormwater management, also ensure biodiversity protection, the use of healthy materials, and efficient waste management.
Bibliography:
Expats.cz Staff, "Flat prices in Brno pass CZK 100,000 per square meter for the first time", Expats.cz, 20 April 2022. https://www.expats.cz/czech-news/article/flats-prices-in-brno-have-passed-a-dizzying-milestone
Kathrin Yaromich, "Soaring inflation in Czechia is dashing young people's hopes of homeownership", Expats.cz, 26 May 2022. https://www.expats.cz/czech-news/article/how-soaring-inflation-in-czechia-obstructs-young-people-ambitions-of-homeownership
Lalaine C. Delmendo, « Czech Republic's housing market remains buoyant despite pandemic", GlobalPropertyGuide, 2 April 2021. https://www.globalpropertyguide.com/Europe/Czech-Republic/Price-History#:~:text=The%20average%20price%20of%20apartments,Czech%20National%20Bank%20(CNB)
Michael Kahn and Jason Hovet, "Property ladder too high for central Europe's first-time buyers", Reuters, 9 February 2022. https://www.reuters.com/world/europe/property-ladder-too-high-central-europes-first-time-buyers-2022-02-09/
William Nattrass, "Amid a Czech housing crisis, could shared homes be the future?", Expats.cz, 25 April 2022. https://www.expats.cz/czech-news/article/amid-a-czech-housing-crisis-could-shared-homes-be-the-future
William Nattrass, « Buying a house in Czechia is harder than in most other EU countries", Expats.cz, 8 February 2022. https://www.expats.cz/czech-news/article/buying-a-house-is-harder-in-czechia-than-in-most-other-eu-countries
William Nattrass, « Czech mortgage rates increase dramatically as inflation kicks in", Expats.cz, 19 January 2022. https://www.expats.cz/czech-news/article/czech-mortgage-rates-are-increasing-dramatically-as-inflation-measures-take-effect
William Nattrass, « Czech mortgages and rents set for dizzying icreases due to inflation", Expats.cz, 16 February 2022. https://www.expats.cz/czech-news/article/mortgages-and-rents-set-for-dizzying-increases-due-to-inflation
William Nattrass, « Mortgages are becoming a luxury item in the Czech Republic", Expats.cz, 7 April 2022. https://www.expats.cz/czech-news/article/are-mortgages-becoming-a-luxury-in-czechia