You can find our newest installment on the Polish gaming industry => HERE
According to a recent estimate from the Polish Agency for Enterprise Development, the Polish video game market is currently worth EUR 470 million, with gaming behemoths like CD Projekt, PlayWay, 11 bit studios, and Ten Square Games calling Poland home. Almost all of the games made in Poland are exported (96% in 2021).
Poland, highly positioned in the gaming sector
One of the reasons for Poland's game sector success is the high level of IT literacy in the educational system, which leads to a large number of highly qualified programmers. Universities across the country are also boosting the gaming business, with more than 60 degree courses relating to game development being available in Poland.
Poland has become the world's fourth largest exporter of video games, according to data released by the PKO BP bank.
Poland's video game and console exports are worth €1.24 billion, according to a recent analysis by the Polish bank, accounting for 6.5 percent of global sales. The United Kingdom, Germany, and Sweden are the most common destinations for Polish video games.
Poland is Europe's first and fourth largest exporter of video games and consoles, trailing only China ($9.35 billion, or 49 percent of global exports), Japan ($1.9 billion), and Hong Kong ($1.74 billion).
In turn, the United States is the world's largest importer (€4.69 billion, or a quarter of the global market), followed by Germany (€1.91 billion) and Hong Kong (€1.58 billion).
Despite expanding by 3,810 percent between 2013 and 2018, according to PKO, Poland's video game and console exports (€1.43 billion) remain slightly below its imports (also the fourth largest in the world).
According to Newzoo1, the worldwide game market is expected to reach USD 159.3 billion in 2020, an increase of over 9% over the previous year, with mobile games accounting for USD 77.2 billion, console games for USD 45.2 billion, and PC games accounting for USD 36.9 billion.
The Polish game business gets roughly 96 percent of its revenue through export. The United States is the most important export market, with up to half of all Polish games sold and monetised there. This trend is bolstered by efforts by the largest and most visible companies to establish their presence on this crucial market. However, when it comes to small and mid-sized developers, these proportions are different, and sales in the United States only slightly outnumber those in the second largest market, Europe, which includes Germany, the United Kingdom, and France.
Over 440 studios and businesses are developing games in Poland, spanning all economic models from first-party to coproduction and external development.
In 2020 the most significant research on the size of the industry so far was performed by Game Industry Conference, bringing the data that there are 9710 full-time employees in game production in Poland.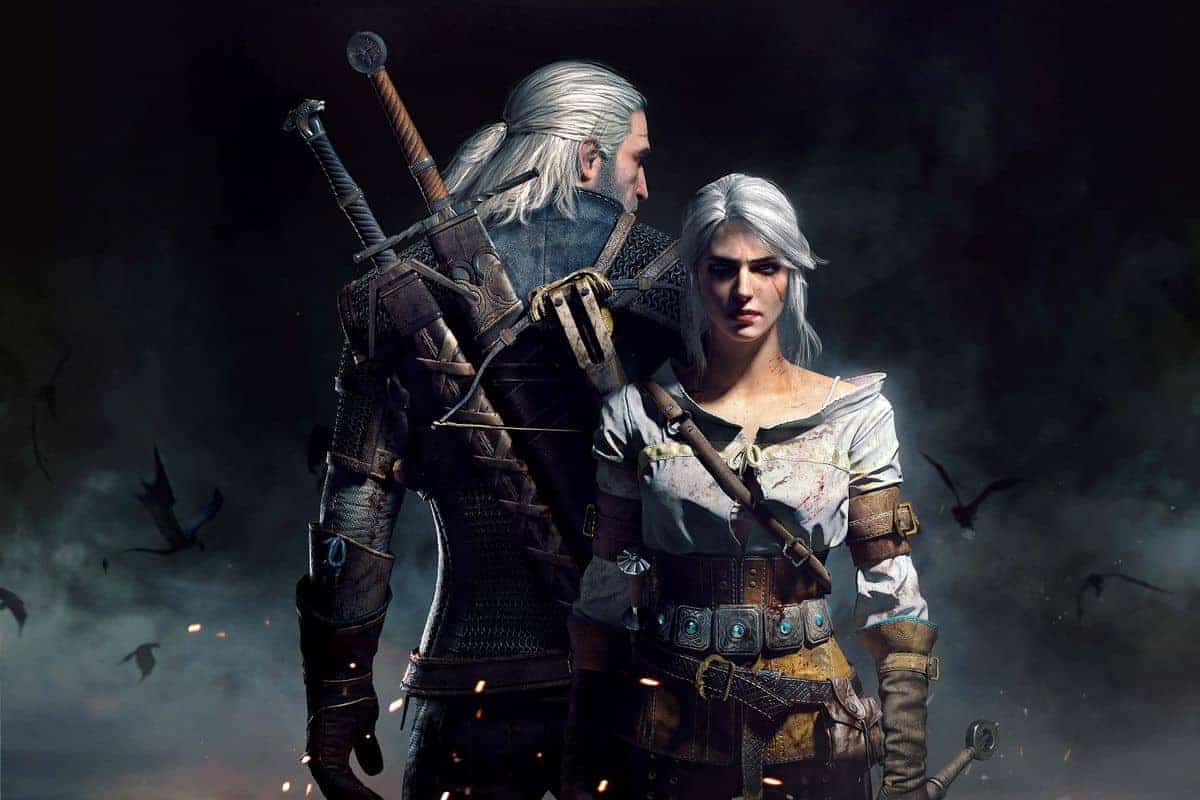 A company leading the industry : CD PRojekt Red
This company is probably one of the most famous Polish companies and one of its most recognizable brands in the world… although few people know it originates from Poland. CD Projekt is a video game publisher based in Warsaw, and owner of the CD Projekt RED development studio, responsible for bringing the Witcher video game series to all the gamers around the world,
CD Projekt Red is now Europe's most valuable game company with a market capitalisation of $6.8 billion in December 2019 and a posted return of 21,000% over the previous decade – the biggest increase of any stock listed in the Stoxx Europe 600 Index. The current market evaluation is $8.12 billion.
One of the main drivers of this booming industry is the success of 'The Witcher' video game franchise, developed by Poland's industry leader CD Projekt Red and based on the fantasy novels by Polish writer Andrzej Sapkowski. Since the first game was launched in 2007, some 40 million units of the Witcher series were sold worldwide.
Mateusz Tomaszkiewicz, one of CD Projekt Red's lead designers on its latest installment 'The Witcher 3: Wild Hunt', was named in this year's Forbes "30 under 30" ranking of the most talented and promising young professionals in their field.
Before making their own games, CD Projekt began in 1994 by translating foreign major game releases into Polish and distributing major releases throughout Central Europe. The first huge success of the company was the installment of the Witcher game series based on the works by Andrzej Sapkowski, a Polish fantasy writer.
The 'Witcher 3: Wild Hunt' later on won several game of the year awards and was both a critical and commercial success, praised for its writing, graphics and representation of Slavic mythology and music. It shipped 20 million copies worldwide, cementing CD Projekt as a major publisher and video game company worldwide.
However the long-awaited Cyberpunk 2077 game launched in December 2020 was a flop,
the game is being removed because it doesn't reach the « high level of customer satisfaction » the company intends to achieve from all games on its digital storefront, Sony said. The game cost an estimated 1.2 billion Polish złoty (US$313 million) to develop, making it one of the most expensive games ever made.
Cyberpunk 2077 Creators Lose $51 Million In Refunds After Game's Disastrous Launch. After the disastrous release of the highly anticipated sci-fi role-playing game Cyberpunk 2077 last November, it appears the studio behind it lost a shedload of money as a result.
E-SPORTS : A Growing industry
Because of its relevance to culture, entertainment, and technological innovation, the gaming business is considered one of the most interesting in tech. Final matches in e-sports are expected to attract more than 70 million spectators in 2020. More people watched the NBA finals, NHL Stanley Cup finals, and World Series combined.
Poland also hosts the Intel Extreme Masters, one of the world's largest e-sports events, and the Poznan Game Arena, one of Europe's most prominent video game festivals.
With e-sports gaining popularity around the world, Poland's status as the world's fourth largest exporter of video games may soon be matched with its e-sports notoriety. Gamers all across the world can't get enough of e-sports, and businesses and governments are starting to take them seriously. Simply pondering the untapped potential of the e-sports market is enough to make game equipment manufacturers and even advertising salivate at the prospect of exponential sales if they jump on board and reach out to a new group of consumers.
With the focus shifting to e-sports, and gamers, it's no wonder why gaming companies are coming up with the best equipment to appeal to serious gamers. For instance, the Razer gaming mouse is a product that has gained significant popularity among players worldwide. Not to mention that the gamer population is ever increasing.
According to some reports, nearly a third of the Polish population – or 12 million people – are considered gamers, on a more or less regular basis.

MIXING THE SUCCESS OF GAMES AND SERIES
Netflix announced plans to construct a new office in Poland to serve as the company's Central and Eastern European center.
Netflix executive Larry Tanz described the opening as the "logical next step for us," adding that it "marks another milestone in our journey in Central and Eastern Europe, bringing us even closer to our users and creative partners."
In a blog post, he stated, "Given the growing number of Polish productions, the time has come to get even closer to the local creative and cinematic sector."
The office is set to open in the capital Warsaw later this year and boost Netflix's investment, licensing, and production efforts in Central and Eastern Europe, more specifically in Poland, the Czech Republic, Hungary, Romania, Croatia, and Ukraine.
Regarding the latter, Netflix has for now stopped all production in Ukraine amidst the Russian invasion of the country and put on hold its upcoming Russian-language series, including the anticipated Anna Karenina.
"The creativity and potential of the local industry make Warsaw a great place to base our business across Central and Eastern Europe," M. Tanz commented.
Polish government spokesman Piotr Müller welcomed the move, saying it "confirms the lasting interest in our region from American investors. It means more jobs in the audiovisual sector and possibilities of development for Polish talents."
Netflix has been present in Poland since 2016 and has since shown growing interest in expanding the scope of its activities and production in Central and Eastern Europe.
In Poland, recent Netflix productions include Sexify, Rojst '97, Nobody Sleeps in the Woods Tonight, How I Fell in Love with a Gangster, and Operation Hyacinth.
The hit fantasy series The Witcher, also produced by the streamer and starring Henry Cavill in the lead monster-hunter role, is based on the books by Polish writer Andrzej Sapkowski.
Bibliography:
NAWA, "Poland is leading the way of gaming industry. How?", Go Poland!. https://study.gov.pl/news/poland-leading-way-gaming-industry-how#:~:text=According%20to%20a%20recent%20report,in%20Poland%20are%20exported%20abroad.
Eryk Rutkowski, Jakub Marszałkowski, Sławomir Biedermann, "The game industry of Poland", Polish Agency for Entreprise Development, 2020.https://www.egdf.eu/wp-content/uploads/2020/09/PPE_PL_The-Game-Industry-of-Poland-report-2020v4.pdf
KAFKADESK KRAKÓW OFFICE, "What are the most famous Polish brands and companies in the world?", Kafkadesk, 8 August 2019. https://kafkadesk.org/2019/08/08/what-are-the-most-famous-polish-brands-and-companies-in-the-world/
KAFKADESK KRAKÓW OFFICE, "Netflix to open Central and Eastern Europe hub in Poland", Kafkadesk, 3 April 2022.https://kafkadesk.org/2022/04/03/netflix-to-open-central-and-eastern-europe-hub-in-poland/
KAFKADESK KRAKÓW OFFICE, "What are the most popular video games developed in Poland", Kafkadesk, 11 March 2022. https://kafkadesk.org/2022/03/11/what-are-the-most-popular-video-games-developed-in-poland/
KAFKADESK KRAKÓW OFFICE, "Poland is now fourth largest exporter of video games in the world", Kafkadesk, 29 October 2019. https://kafkadesk.org/2019/10/29/poland-is-now-fourth-largest-exporter-of-video-games-in-the-world/
Gaming Section, " Why did cyberpunk flop so hard?", Gaming Section. https://gamingsection.net/news/why-did-cyberpunk-flop-so-hard/#:~:text=Cyberpunk%202077%20Creators%20Lose%20%2451,of%20money%20as%20a%20result.