One of Hungary's most traditional economic sectors is medical technology, a sector that has seen almost 100 years of widely acknowledged innovation, highly specialized technical development and notable exports to the global market. Several Hungarian companies have achieved international recognition with cutting edge products and technologies. A growing number of innovative domestic SMEs as well as several international medtech producers take advantage of the favourable environment and productive workforce in Hungary. 150 companies are engaged in exportdriven medical manufacturing in Hungary.
The health care industry in Hungary belongs to the world's elite thanks to the country's long-standing medical traditions, the high quality of the procedures and technologies applied and the excellence of university education. This has resulted in strong and sustained international interest for Hungarian products and services.
The health care industry is one of the largest industries in the world, and it has a direct effect on the quality of life of people in each country. Health care (or healthcare) is the diagnosis, treatment, and prevention of disease, illness, injury, and other physical and mental impairments in humans.
As a result of fast-paced scientific progress both the manufacturing of health care instruments and the pharmaceutical industry have serious potential on external markets.
Hungary has been distinguished internationally in science and innovation, demonstrated by the 13 Nobel Prizes awarded to Hungarian scientists!
Today, Hungary is a leading market regarding research and development of innovative products and services. Especially in the fields of medical technologies and biotechnology, Hungary has gained excellent know-how and experience with wide recognition in the global market for over a century.
The products and solutions of Hungarian medical technology and biotechnology come as a result of extensive research, based on the needs of the international market. The products feature and prices make them attractive to international markets.
That is why the majority of the production of Hungarian companies operating in the industry is exported to almost all over the world. Especially nowadays, when a multi-layered health crisis is plaguing almost the entire planet, the above sectors have become one of the most active exporters of the ever-growing Hungarian economy.
The Hungarian medical technology sector employs 13,000 people directly and including suppliers the total number of employees in the sector is approximately 30,000.  The Hungarian medical technology industry is a relatively small but concentrated sector with 980 manufacturers comprising 4.9% of Hungarian exports.  85% of exports go to EU countries. The country has a solid base for manufacturing a range of medical devices, however, given the small market it is challenging for domestic production to compete with Western quality and innovations.  The Hungarian MedTech sector includes strong academic background, cutting edge research and development in university spinoffs with research areas in medical imaging, electric and biosensor devices, as well as lab diagnostics.
Annual local production was valued at USD 1 Billion in 2019 and consists mainly of electro-medical equipment, blood pressure equipment, lab kits, surgical and dental supplies, apnea alarms, incubators, infusion pumps, mechanical medical supplies, maternity products, and specialized x-ray and IVD equipment.  Local production and imports generally complement each other.
Hungary is working to achieve a globally significant position in certain sectors where its infrastructure and know-how is strong, such as clinical trials of innovative drugs, the development of biopharmaceuticals, in-vitro diagnostics, animal biotechnology, molecular medicines, and the use of bioreactors.
The historically strong Hungarian pharmaceutical industry has an established knowledge base and skilled workforce which enabled the creation of a red biotech subsector adept at developing therapeutics, unique in the CEE region yet also strong by international comparison.
Key representatives of international biotech companies present in the market include Richter, Egis, Amgen, Omixon, Biogen, Servier, Solvo Biotechnology, etc.  Hungarian biotechnology companies have also expanded their presence into major European markets.
A field Hungary is constantly improving
Sustaining innovation at past levels is becoming increasingly challenging in the healthcare industry, as the traditional R&D model is under growing pressure on multiple fronts. Companies are searching new ways of reducing costs while simultaneously providing the maximum health benefit to patients. However, availability of ambitious scientists and proximity to an industry supporting research institutes will certainly remain fundamental elements in the companies' innovation strategy and location search.
Expansion is supported by the Government of Hungary since the National Research, Development and Innovation Office regards biotechnology as a strategic area for development. Significant results have been achieved in nanotechnology, molecular chemistry, and biotechnology services.  Red biotechnology – also known as biopharmaceuticals – is a prosperous sector in Hungary and market players are seeking opportunities to intensify their activity in the international arena.  The Hungarian Biotech Association plays a key role in conducting biotech research.  Prominent Hungarian universities led by the Budapest Medical University (SOTE) and Medical Universities of Debrecen, Pecs and Szeged have active working relationships with international biotech research companies listed above.
Building on rich traditions in natural, technical and medical sciences, hungary's knowledge- and research centres related to medical technology provide a perfect background for innovative companies
Investment in research and development of products and services for many years have brought superiority of Hungarian companies into groups of Health products and services, that include: diagnostic imaging devices (X-rays, ultrasound, etc.), medical-diagnostic laboratory equipment, cardiology, pulmonology, neonatology devices, equipment for intensive care units and neonatal care units, medical, dental, orthopedic machines and surgical instruments and prosthetic limbs, implants, medical supplies, etc.
Biotechnology companies also have strong activity in research and development, but also in production, with achievements related to applications such as: cancer Research, pharmaceuticals Research and Development, medical and diagnostic biotechnology, genetic applications, bioinformatics and nanotechnology.
Foreign Subsidiaries
The majority of medical equipment suppliers in Hungary are EU-based manufacturers (primarily German, Italian, and French). Major U.S. medical suppliers, such as GE Healthcare, Medtronic, Johnson & Johnson, and Becton Dickinson also have direct representations or subsidiaries in Hungary.  The most promising subsectors are biomedical devices, diagnostic equipment, post-surgery recovery and therapeutic products and systems, imaging technologies, and dental equipment/supplies.  Investments in new medical equipment within the healthcare sector are expected to increase as both public hospitals, out-patient clinics and private healthcare services are expected to grow.  Due to the ongoing pandemic, healthcare technology has become a priority sector for the Hungarian Government.
As a member of the EU, Hungary's local legislation concerning medical devices complies with EU directives. Foreign producers that wish to export medical devices to Hungary are highly recommended to establish a contract with a local importer, who can help the company fulfill regulations such as the CE mark or the Medical Device Directive (MDD), Declaration of Conformity, and translation of directions and manuals into the Hungarian language.  Medical devices and pharmaceuticals are subject to a customs duty and VAT of 27%.  The duty for medical technologies imported from the United States ranges according to a specific Harmonized Schedule (HS) code and is between 3-11%.
BECTON DICKINSON (BD) US-based BD Biosciences, a world leading provider of diagnostic and research tools for life sciences, inaugurated a EUR 20 million plant in Tatabánya, Northwest Hungary in October 2017. The expansion is a continuation of the growth of BD in Hungary over the last 10 years, where the company has invested more than EUR 235 million and currently employs more than 800 people. Building on positive experiences in the production of prefillable syringes, BD decided to also locate the manufacturing of research reagents at its Hungarian site, creating more than 100 new jobs. The plant will reach full capacity in 2018 when it will make 8,000 different types of research reagents for flow cytometry.
Global healthcare giant B. Braun has been present in the Hungarian market for more than 40 years and established its own affiliate here in 1991. To date B. Braun has invested around EUR 200 million in Hungary, employing more than 2,000 people . In its Hungarian facility the company produces all its bloodlines used in dialysis for the European market as well as infusion sets and wound drainage systems. 65 million products are manufactured per year and 98% are sold in the world market. Outside Germany, Hungary is the only country where B. Braun has established a software development centre. As a sign of commitment to Hungary, B. Braun was a pioneer in 1991 to start the establishment of modern dialysis care in the country non-existent before and currently operates 18 dialysis centres countrywide providing treatment to 2,500 chronic patients. The company also provides hospitals and healthcare institutions with over 5,000 medical products which offer efficient solution in hospital treatment, surgical intervention and home care.
COLOPLAST is global market leader within ostomy and continence care and one of the best performing medtech companies in the world growing at twice the speed of the market. Growing demand requires more production capacity. For Coloplast this means building a new factory every 2-3 years. Around the Millennium, Coloplast started looking at possible production expansion outside Denmark, Hungary was chosen due to quality of the infrastructure, availability of qualified workforce, and competitive wages. Coloplast bought a plot of land of 100,000 sqm (for a three-phase factory) in Tatabánya and started production in 2001. After an initial learning phase and knowledge transfer, a quicker pace in transfer to Hungary was done and within a few years, Coloplast had utilized the first land plot completely. Coloplast was very satisfied with the development of mass production in Hungary and quickly purchased more land in Eastern Hungary – Nyírbátor. Third phase of the Nyírbátor factory was completed in May 2018, which gives the possibility of future volume growth for Coloplast in Hungary.
HOYA In Hungary production of optical lenses is an activity with long history and rich traditions. World renowned optical manufacturer, Magyar Optikai Művek (Hungarian Optical Works) was established in 1876. In the golden age of the company, some 8,000 people were employed throughout its premises, including six sites in the countryside. In the 1990's the company became a member of Buchmann Group. Optical lens manufacturer Hoya acquired the Belgian company in 1999, thus the Japan-based global enterprise became a major player of the optical industry in Hungary. Hoya's plant in Mátészalka (Eastern Hungary) is specialised in glass lenses, and the company employs more than 1,000 people here.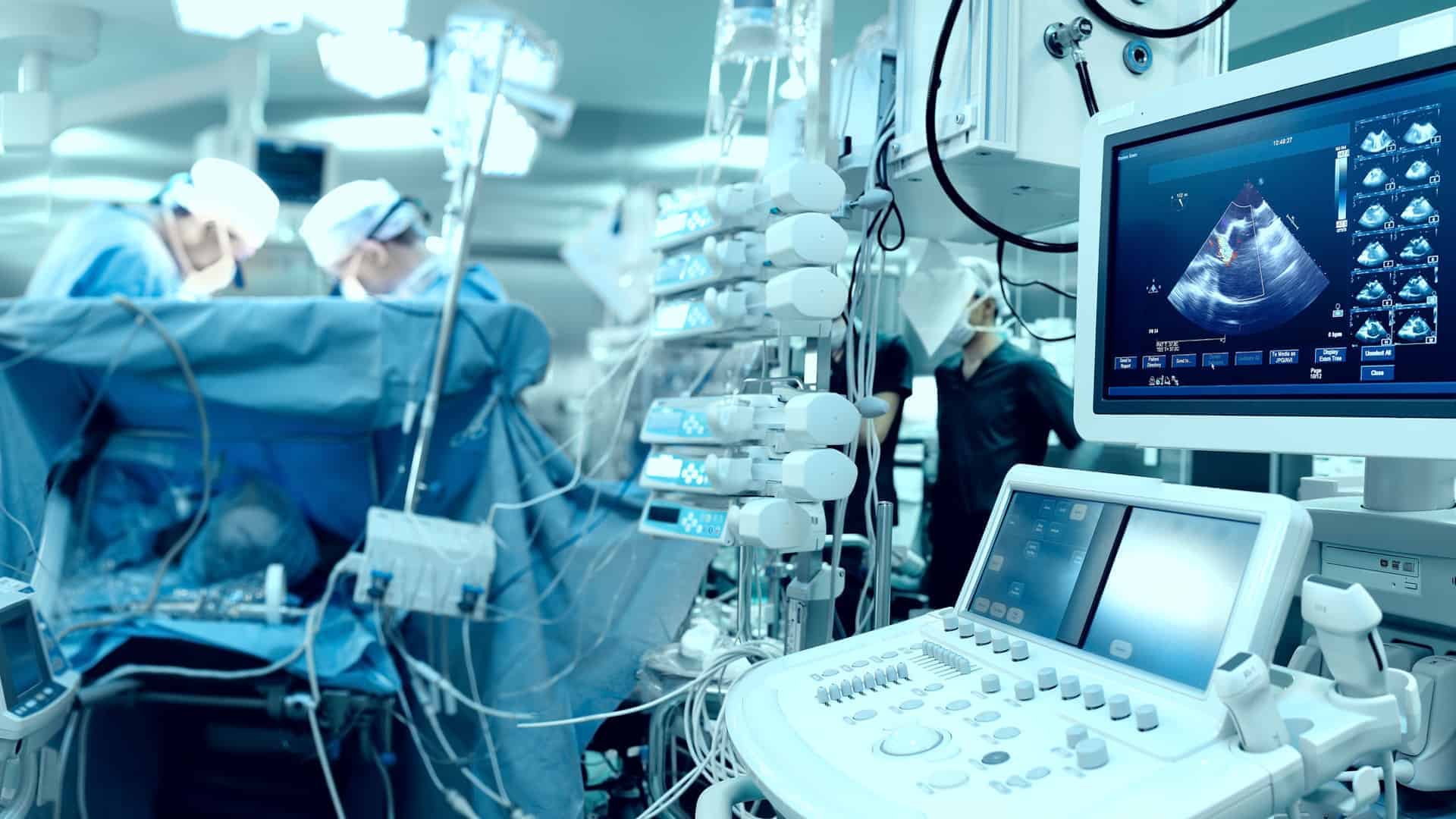 Tackling challenges
Recurring hospital debt remains the biggest problem in the country's healthcare system resulting in postponing surgeries and other inevitable treatments.  Hungary's state-run hospitals generated debt of almost USD 140 Million in 2020 and USD 190 Million in 2019.  Hungary's healthcare system has been criticized in several fields calling for system-wide changes including:
Minimum 90 days wait time for planned surgeries and treatment with special focus on orthopedics and neurosurgery.
Underuse of diagnostic examinations such CT or MRI.
High ratio of death or serious impact caused by cardiovascular diseases and stroke.
Aging and lack of certain medical professionals: GPs, pediatricians, anesthesiologists, and nurses.
Hungary spends 9.9% of its national GDP on healthcare according to Eurostat.  Most of it is spent on wages and maintenance of hospitals and out-patient clinics and only a small portion is spent on purchasing innovative medical equipment.
Medical device and pharmaceutical importers may face challenges obtaining approval for placement on insurance reimbursement lists, including significant delays (a common challenge among Central and Eastern European countries).  If a product is not included on the reimbursement scheme, paid by insurance companies, the market for the product is limited or an exception needs to be requested.  Such 'exceptions' are preceded by lengthy negotiations between the company and the National Health Insurance Fund (NEAK), delaying patient treatment.  The catalog of reimbursed operations, medical aids and pharmaceuticals is reevaluated every six months.  Drug categorization takes place on a bi-monthly basis.  Drug price referencing is executed twice yearly by the National Health Insurance Fund.
To overcome this issue, Budapest healthcare service providers will receive HUF 10,2 Billion (USD 34 Million) funding to improve services and medical technology in public healthcare institutions in Budapest between 2021-2024. The funding is aimed at improving basic healthcare service and outpatient services to reduce 60-200 day wait times for certain medical interventions.
The funding will be distributed among in- and outpatient clinics and hospitals in the 23 districts of Budapest. Areas to be covered will be MedTech-related developments, digital healthcare, refurbishment of healthcare facilities. MedTech includes diagnostic imaging, radiology and emergency room equipment. Digitalization and telemedicine, or telehealth, are also priorities for the sector. The role of e-health will help to meet Hungary's need to expand the healthcare infrastructure, while improving services and personnel conditions.  Local district governments will receive between HUF 80 Million and 1,500 Million funding (USD 267,000 and 5 Million).  Procurements will be executed through public tenders.
Bibliography:
Embassy of Hungary Islamabad, " Health care industry and medical technology", Embassy of Hungary Islamabad. https://iszlamabad.mfa.gov.hu/eng/page/health-care-industry-and-medical-technology
Hepa Regional Office, "1100 years of innovation in medical technology", Hepa Regional Office. https://www.hepaoffice.gr/en/1100-years-of-innovation-in-medical-technology/
Hipa, "Medical Technology in Hungary", Hipa, 20 September 2018. https://hipa.hu/images/publications/hipa-medical-technology-in-hungary_2018_09_20.pdf
International Trade Investigation, "Hungary – Country Commercial Guide Medical Technologies", International Trade Investigation. https://www.trade.gov/country-commercial-guides/hungary-medical-technologies#:~:text=The%20Hungarian%20medical%20technology%20sector,comprising%204.9%25%20of%20Hungarian%20exports.