John W. – University of Warwick, presented as a contribution to the 2021 Blue Europe Contest. 
Review by Henrique Horta and Pawel M.D.L.B.
Outsourcing became popular in the 1980s, though it had existed for a long period of time prior to that. The name is derived from two words: "external" and "resource." Outsourcing is the process of utilizing external resources by contracting with specialized external companies to conduct critical business activities. It is suggested that activities undertaken outside of the organization can be more efficient than those performed internally, resulting in better desirable outcomes. The application of this management idea results in a new perspective on an enterprise's service activities. Initially, outsourcing was limited to tasks deemed supplementary by the business, such as cleaning or mailing. At the moment, an increasing number of activities deemed critical to the business are undertaken by external organizations. However, we must bear in mind the importance of conducting in-depth and comprehensive analyses that will enable the business to make an informed decision regarding the delegation of specific tasks to external entities. These evaluations should take into account organizational, human resource, technical, spatial, legal, and ownership considerations. A choice to allocate specific functions cannot result in a company's economic activity becoming weaker or losing control. This decision entails not just a shift in the manner in which the role is performed, but also a reorganization of the parent firm.
Defining what is outsourcing and how we can divide it
We must keep in mind that outsourcing is a long-term endeavor, not a one-time fix to the service delivery problem (for which in general interim job is the fix). As a result, outsourcing partners are obligated to maintain continual communication, to verify collaboration guidelines, and to agree on the parties' objectives (including long-term goals).  The most frequently assigned tasks include the following: the scope of service and accountability, the cost associated with the accepted division of work, the results of the work within the determined division, service standards, possible communication standards between parties and the environment, and the expected quality.
In the event of contractual outsourcing, the corporation relinquishes control of the function and contracts its performance to another company. An example of this type of outsourcing would be the corporation ceasing to hire legal counsel and contracting legal services to a law firm, or the company closing its own accounting department and contracting accounting services from an accounting firm. This method simplifies the organizational structure of the business and alleviates management concerns. By subcontracting the completion of specific activities to specialists, the business can limit its involvement and responsibility in this area, while also ensuring that the activity is executed at an appropriate level. Contractual outsourcing, on the other hand, entails the liquidation of all aspects associated with the performance of a specific function, including redundancies, the sale or liquidation of capital, and the liquidation of an organizational unit. Additionally, this results in restricted strategic planning opportunities in this sector. Additionally, when a corporation contracts an external entity to undertake a procedure, the company has limited control over it.
What is capital outsourcing?
Capital outsourcing allows us to separate a function from the enterprise in the form of a daughter company that is capital-related to the parent company. This means that the components necessary to carry out the role within the enterprise are not liquidated, but rather transferred to the new economic subject, namely the daughter-company. Capital outsourcing is exemplified by the separation of service and maintenance activities from the enterprise structure in the form of a service and maintenance daughter company, or by the organization of external transportation from the enterprise structure in the form of a transport daughter company. The advantages of this approach include minimizing the need for redundancy and protecting an enterprise's capital in an ordered manner. Additionally, the corporation maintains a broad range of control and strategic planning capabilities for its activities. On the other side, capital outsourcing precludes a significant transformation of the way the business functions. By focusing exclusively on internal resources, the firm restricts its contractor selection freedom and does not fully use the possibility to initiate collaboration with a specialist in a certain subject.
The difference between offshoring and international outsourcing
Offshoring is a term that refers to international outsourcing. It entails the transfer of business processes from Western European and American countries to the Far East region, which has a large population of English-speaking specialists. Such steps are made by large corporations, which relocate their accounting activities, for example. Offshoring enables them to save expenses by hiring labor from lower-wage countries. Near-shoring is a term that refers to a subset of off-shoring. It refers to the practice of outsourcing tasks to countries that are culturally and geographically adjacent – from Western Europe to Eastern and Central Europe. This pattern is evident in Poland, where service centers serve primarily Western European clients. Their competitiveness is based on the fact that salaries in Poland are less than half those in the worst countries of the "old" European Union. The figure below illustrates the popularity of several locations in terms of outsourcing center location .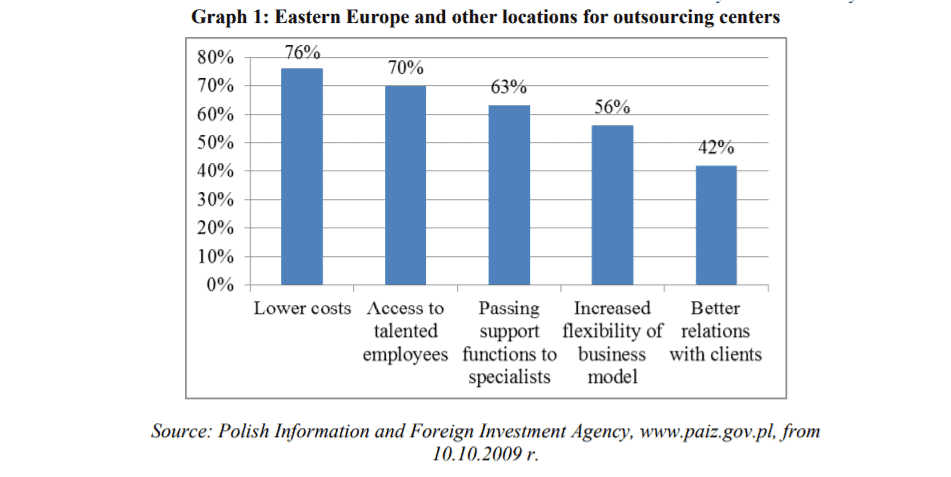 It's worth noting another phrase at this point: in-sourcing. It is the process of delegating the execution of critical business operations to a specialised, internal department inside the same organization. These processes are strategic for the enterprise but do not constitute its core competences. In recent years, we have witnessed the emergence and dramatic growth of two phenomena on the Polish market. One of them is the birth of what are referred to as Shared Service Centers (SSC), a subset of consolidated service centers. The purpose of SSC is to support a parent company's different internal processes, such as accounting and financial procedures, information technology (IT), human resources (HR), as well as procurement and customer service operations. Typically, these are centers established by large corporations to assist the enterprises within a certain group that operate in multiple nations. Generally, the services provided by centers to external businesses cover only a portion of the process (for example in accounting they do not include the calculation of taxes or only refer to the services of payments and liabilities).
The emergence of Business Process Outsourcing
The other significant development is the emergence of Business Process Outsourcing (BPO). These centers perform business tasks on behalf of an external client that are normally performed using internal resources. These procedures are strategic for the company, despite the fact that they do not fall under its core competences or are the focus of its primary business activity (Levernes, 2010). Outsourcing is a cost-cutting strategy. We increase the efficiency of machinery and workers by contracting some services to an external company (or to a distinct internal unit). As a result, we reduce fixed expenses, which results in resource savings, allowing us to gain a competitive edge over other businesses. Additionally, economies of scale are critical when establishing enormous centers of perfection. Additionally, outsourcing eliminates the risk associated with hiring and training new staff. By delegating certain operations to specialists, the organization ensures the high quality of these tasks. Additionally, such a solution enables the business to develop new products and services, increase its flexibility, take additional orders, and improve the quality of its production or services, all of which result in improved client relationships.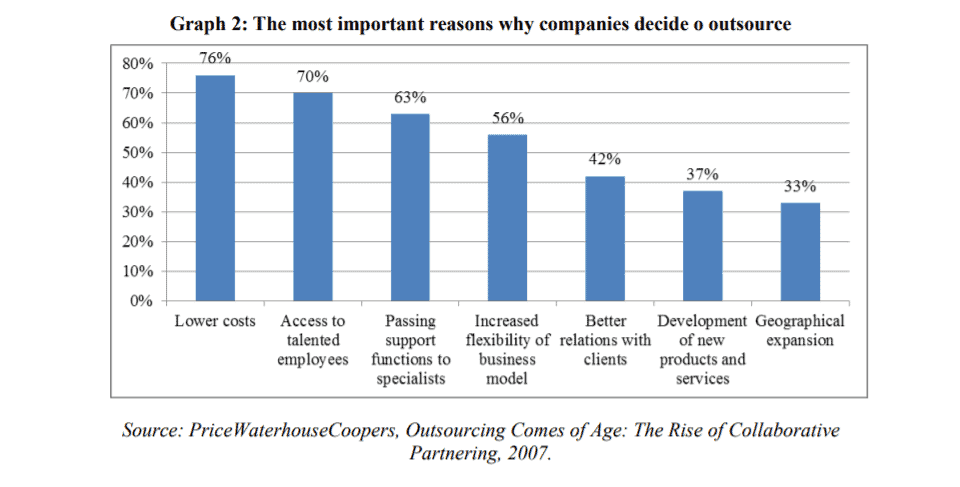 Outsourcing entails some hazards as well. If an organisation outsources too many processes, it risks becoming overly reliant on such solutions. Additionally, there is a risk of losing control over the high quality of manufactured items or services given, which could result in losses due to the cooperative's lack of reliability. If the outsourcing of some procedures results in staff redundancies, bad social relations will emerge. Additionally, the business must consider the possibility of a blurring of its image in the eyes of its clientele. Another concern is that the growth of outsourcing will result in an increase in compensation in the host nations of service centers, thereby leveling off labor cost differentials. This has not been established, though. Salary levels in Central European countries with outsourcing centers will equal those in Western Europe in 5-6 years and in Asian countries in 18-25 years, according to the report.
The history of outsourcing in Poland
Outsourcing began in Poland in the 1990s. At the moment, outsourcing is viewed as a necessary component of a long-term development strategy and a typical way of operation for a large number of Polish businesses. At the now, the BPO sector employs approximately 40,000 people, but according to the Polish Information and Foreign Investment Agency, this figure might reach 70,000 by the end of 2010. Although our country is still in its infancy in this industry, it is frequently viewed as more attractive than several more established outsourcing centers. Our advantages include proximity to Western European markets on a geographical and cultural level, as well as a favorable location within the international system of communication channels. Poland's location between the United States and the Asia-Pacific region completes the concept of a global chain of business process outsourcing services. Additionally, our country may take pride in its highly qualified workforce. Polish institutions graduate over 400,000 students each year. The vast majority of employees (92 percent) hold a bachelor's degree or above, and their average age is 28 years (Polish Press Agency, 2009). Another strength of our country is our membership in the European Union and the steady growth of foreign direct investment. Additionally, Poland has relatively low labor expenses and a low rate of employee turnover (below 15 percent ). Additionally, European businesses want service centers that can communicate with clients in a variety of European languages. Such services cannot be provided by India or other low-labor-cost countries. In 2005, Poland added another argument for such investment by amending existing regulations to allow corporations to construct offshoring centers in twelve special economic zones (Pijaczyski, 2006). In 2007, the Outsourcing Institute was founded in our nation as a subsidiary of Harvard Business Review Poland. This institution developed into a premier forum for exchanging knowledge and expertise about outsourcing. In 2009, the Outsourcing Institute formed the Outsourcing Institute Foundation, which is comprised of the industry's leading providers of outsourcing services. The purpose of this group of companies (ADP, ArchiDoc, Baker&McKenzie, Deloitte, Target BPO, Web Inn, and Xerox) and the experts who work for them is to promote outsourcing as the most effective strategy for increasing effectiveness and profitability, as well as to conduct educational and expert operations. The Foundation's operations are aimed at merging organizations and specialists with unmatched expertise of outsourcing and contributing to the establishment of new initiatives for the exchange of knowledge and techniques utilized by Polish and worldwide businesses (Outsourcing Institute, 2010). All of these activities contribute to Poland's continued growth as a service market, notwithstanding the global crisis. Around 10,000 jobs were expected to have been created in this sector in 2009.
Outsourcing in Poland and a story about three cities
The Tri-City region, which includes Gdask, Sopot, and Gdynia, exemplifies how business services have expanded in Poland. Amazon and Thomson Reuters have both relocated some of their operations to this region in recent years. Not coincidentally, their new offices are placed directly adjacent to the main building of the University of Gdask.
Between 2016 and 2021, the Tri-City experienced the highest percentage rise in employment, increasing by 88.4 percent, or 14,100 workers. According to the Association of Business Service Leaders, rapid development was also noted in Warsaw (85.6 percent) and Pozna (72.0 percent) (ABSL). Smaller cities, such as Rzeszów, are drawing investment interest as well.
Poland draws multinational enterprises because to its central European position, cultural proximity to the firms outsourcing work and their clientele, and a workforce fluent in foreign languages. While Poland cannot compete on labor costs with global offshore centers such as India, its workers earn around a third of the Eurozone's average hourly salary.
The Kraków branch of US firm Alight Solutions, which specializes in human resource outsourcing, is one example of a company that has assisted western firms in relocating complete services to Poland, rather than simply portions of them.
Maria Trybus, a former employee, recalls the position's stringent requirements: multilingualism, considerable training, and regular evaluation. While Poland's domestic labor could provide those, many enterprises were concerned that their consumers in western Europe desired the ability to visit a real office.
"Many [customers] in London and Paris desired to speak with an HR representative in person and were startled that HR representatives were not available at their offices," explains Trybus. However, as a result of the pandemic, people have grown acclimated to remote services.
A pandemic generates additional investment
As the pandemic disrupted numerous business procedures, it boosted Poland's emergence as one of Europe's leading outsourcing hubs.
For starters, the country has established a track record of economic stability. According to preliminary figures from Statistics Poland (GUS), Poland's GDP increased by 10.9 percent year on year in the second quarter of 2021, the greatest single gain since comparable records began in 1995.
Unlike in India, another outsourcing hub where last year's lockdowns caused confusion and panic, Poland quickly adjusted to the new climate. Businesses expedited their transition to remote employment and digital transformation. Simple chores have been replaced by digital solutions, and Poland is prepared to provide the higher-end talents required for more advanced and complicated services.
According to consultancy firm JLL, businesses would be "seeking to increase the resilience of their operations" by "reshoring outsourced activities closer to home." "Poland is projected to benefit significantly from this trend," according to Rafa Szajewski, JLL's business location director. The firm anticipates a peak in inflows between 2022 and 2023, followed by "continuing increase over the next five years."
According to a research conducted by Antal, a human resources firm, in collaboration with Vastint and Cushman & Wakefield, up to 91 percent of companies operating on the Polish market are planning additional investments in the next years.
ABSL estimates that Poland has about 355,000 individuals employed in business services, making it the largest such location in Central and Eastern Europe. It anticipates that figure will nearly quadruple in the following decade.
By that time, however, Poland will no longer be a cost-competitive business site, ABSL's Pawe Luty told Notes from Poland. "Poland's industry will continue to evolve and progress toward the middle office and, for some leading centers, toward the front office," he continued.
There are already indications of this, as an increasing number of businesses engage in upskilling their local workers. For instance, PwC announced in September plans to create 5,000 new jobs in Poland and invest $100 million in new technologies, services, and training by 2026.
Transitioning to higher-skilled employment
Poland should continue to increase the value of its services in order to benefit from its role as an outsourcing hub. "If businesses continue to outsource merely basic service functions, it will be detrimental to our country, as there are several well-educated individuals who can generate more value than these corporations," argues Kubisiak of PIE.
Poland now has a variety of outsourcing methods, ranging from the most basic to the most advanced, such as R&D and IT product development. "If we go toward a more sophisticated outsourcing model, it will benefit our economy," Kubisiak argues.
Poland has evolved from a low-cost site to the best-priced destination with a highly qualified workforce, particularly in information technology, according to ABSL. Multinational technology businesses have already established a presence in the Polish information technology sector. According to a new research by Ideamotive, almost two-thirds of the country's IT expertise work for foreign organizations.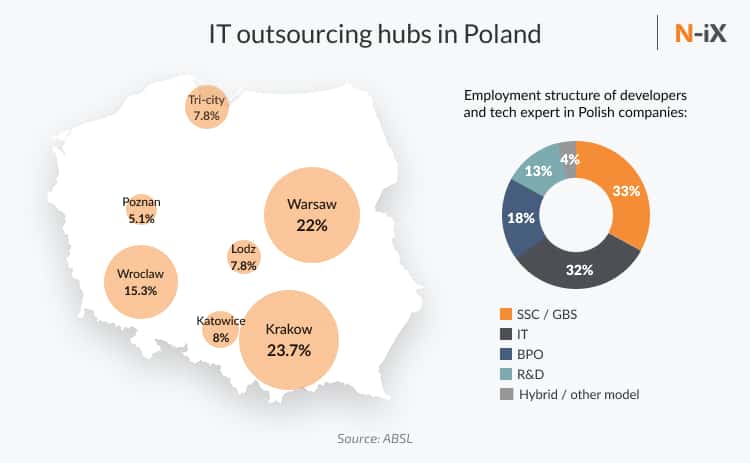 Additionally, IT services account for one-third of all Polish exports to the United States, and cost savings are only one of the reasons. Outsourcing enables access to advanced capabilities that are not available on an on-site basis. This, however, has resulted in a shortage of specialists for Poland's domestic market, as many prefer to work for a foreign firm that offers a greater salary.
Finance is another sector of growth, with positions in accounting, know your customer (KYC), and anti-money laundering. Poland has recently drawn the attention of pharmaceutical and medical equipment businesses, which see an opportunity to acquire highly experienced personnel in the clinical trials sector, as well as associated services such as regulatory, compliance, and administration.
Bayer, for example, has established a digital hub in Warsaw, where it intends to hire up to 400 information technology professionals by the end of 2022. The hub is tasked with generating ground-breaking digital solutions for Bayer's Crop Science, Pharmaceuticals, and Consumer Health divisions.
How to capitalize on the opportunity
However, in the future, Poland's diminishing and aging population could become a source of contention for recruiters tasked with the task of luring talent while attempting to keep top professionals in the country and entice foreign experts to come.
"Human capital is a critical factor in why these corporations invest in Poland. However, it becomes a significant issue in the long run if the demographic situation deteriorates," according to PIE's Kubisiak.
He also emphasizes the importance of innovation, noting that Poland invests in research and development at a rate that is among the lowest in the European Union. According to Eurostat, it spent the equivalent of 1.32 percent of GDP on R&D in 2019, while Germany spent 3.17 percent. Without investment in innovation, new products and services with a higher added value will become scarce.
ABSL adds that Poland's education system, not just at the university level, but also in high schools, needs to be improved to place a greater emphasis on digital solutions, problem-solving, emotional intelligence, and managerial abilities. "It is critical to develop people's innovative capacity, which should begin in schools," Luty told Notes from Poland.
Finally, Poland-based offices must be proactive in their dealings with parent businesses. ABSL cautions managers against growing too comfortable in the second tier: "A worrying trend may be detected in some centers, which is a lack of an innovative approach and a focus on Poland as a low-cost destination."
Poland has grabbed the opportunity to grow and thrive as an outsourcing option due to its stable economy and low cost of living. However, the country must now become more attractive to top professionals, who now have more freedom to select where to work as a result of the growth of remote work. Additionally, it must persuade global corporations of its capacity to assume larger roles.
Bibliography
Notes From Poland. 'As the Pandemic Boosts Its Thriving Outsourcing Sector, Poland Looks to Offer Higher-Value Services', 7 October 2021. https://notesfrompoland.com/2021/10/07/as-the-pandemic-boosts-its-thriving-outsourcing-sector-poland-looks-to-offer-higher-value-services/.
Kornet, Katarzyna. 'THE ATTRACTIVENESS OF POLISH CITIES FOR ATTRACTING OUTSOURCING AND THE ANALYSIS OF BENEFITS FOR THE REGION' 7 (2011): 14.
'Why Poland Is One of the Best Places to Outsource Developers?' Accessed 19 December 2021. https://www.merixstudio.com/blog/why-poland-best-place-outsource-developers/.
SCAND. 'Why Poland Is the Best IT Outsourcing Location?' Accessed 19 December 2021. https://scand.com/company/blog/reasons-why-you-should-consider-outsourcing-to-poland/.
Pentalog. 'Why Poland Is the Best IT Outsourcing Location in 2021?' Accessed 19 December 2021. https://www.pentalog.com/blog/it-outsourcing/outsourcing-it-to-poland.